Edward S. Brewer
1933 - 2021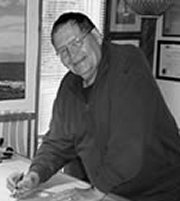 From Designers website:
Ted was born in Hamilton, Ontario in 1933. In 1957 he was a Lieutenant in the Canadian Army and resigned his commission to return to his first love, boating. He was lucky to get a job as yacht broker with George Cuthbertson, who later founded C&C Yachts and, at the same time, Ted was working on the Westlawn School of Yacht Design course.

Ted learned a great deal about design from George and also from Dick Telford, a boat builder, a very capable designer, and a good friend who also worked there. During his years with Cuthbertson, Ted was racing aboard 8 meter yachts in Lake Ontario and sailing his own small boats up and down the lake. Then, in late 1960 he had a chance to move to Connecticut and work for A. E. "Bill" Luders Jr. as assistant designer.

While with Bill he worked on everything from 5.5 meter sloops (about 50 of them), to 12 meter America's Cup racers, ocean racing yachts and power boats. He assisted in the modification of WEATHERLY for the successful 1962 Cup defense and did all the drawings for the Bill Luders' designed 12 meter yacht AMERICAN EAGLE, and supervised her construction.

In 1967 Ted moved to Brooklin, Maine to hang out his shingle but still did all of Luders drafting, including the conversion of EAGLE to an ocean racer. In partnership with Bob Wallstrom he produced over 100 custom and production designs, from 18' catboats to the exquisite 62' teak ketch TRAVELLER III and, from the sublime to the ridiculous, even a 64' 3 masted schooner approved by the USCG for daysailing 125 passengers.

In the mid '70s Ted pioneered his, widely copied, radius bilge method of building metal hulls and, over the years, designed dozens of steel and aluminum craft from 30 to 100 feet. One of these yachts, GLOBE STAR, circumnavigated the globe in '81 without the use of sextant, compass or instruments of any kind.

From 1970 to 1979, Ted worked in partnership with Bob Wallstrom, who had a hand in many of the designs during this period.

In '79 Ted moved to Washington state and, in the next 20 years, produced 160 more designs including the beautiful Whitby 55 ketch, the handsome 45' schooner SOPHIA CHRISTINA and the fast and powerful 70' schooner TREE OF LIFE, winner of the 2000 Antigua Race Week.

In 1999 Ted and his wife Betty moved to Gabriola Island, B.C. Where he donated time, for several years, lecturing at the Silva Bay Shipyard School. They moved to Agassiz, B.C. In 2006, where he still sells stock plans and writes for Good Old Boat magazines. In addition to completing over 270 designs, Ted has written three books; one of them, 'Understanding Boat Design', is now in its 4th edition and has been a popular design primer for 30 years.

'Understanding Boat Design' by Ted Brewer
Available at www.tedbrewer.com or at any number of book sellers.
Pub: International Marine/Ragged Mountain Press; 4th edition (November 1, 1993)
ISBN-10: 0070076944
ISBN-13: 978-0070076945

Ted has raced and cruised in waters from Hawaii (3 Trans-Pacs) to the eastern Mediterranean, and from the Caribbean to the Great Lakes.

Editors addendum:
I want to express my appreciation to designer Ted Brewer, and his wife Betty, for providing many valuable corrections, and additions, including a number of terrific drawings of his many boats.
I'd like to add that one can purchase full sized drawings of most of his designs, as well as his book from his web site. I believe you can also purchase any of his past articles from the Good Old Boat website. (goodoldboat.com)
Thanks again, Ted and Betty.
Sailboats Designed By Edward S. Brewer
52 Sailboats / Per Page: 25 / Page: 1