William Garden
1918 - 2011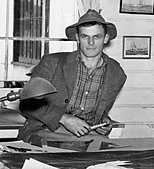 A Canadian by birth, Garden moved to Seattle at the age of ten and spent much of his time learning the art of sail and boat building around the shores of Lake Union. Today, there are thousands of boats sailing around the world designed by William Garden.
Garden spent many successful years in his Seattle offices, eventually moving back to British Columbia.

More information can be found at the 'William Garden Collection', (Ships Plans Coll. 96), Mystic Seaport Museum.

Sailboats Designed By William Garden
34 Sailboats / Per Page: 25 / Page: 1