Lyle C. Hess
1912 - 2002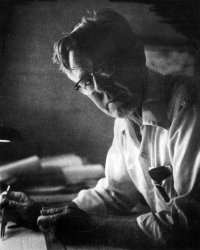 Lyle Hess designed and built his first boat at the age of 14. During WWII, he worked as a shipwright at Harbor Boatworks in San Pedro, building wood torpedo boats and minesweepers for the British Navy. After the war he built fishing boats for the Humbolt Bay Boat Company.

In 1946, with partner Roy Barteaux, he founded L. A. Yacht Yard in Harbor City, California.
He later sold his share and went into home construction business with his brother but still working at yacht design in his spare time.

With the introduction of the BALBOA 20, built by Arthur Marine, Hess was able to work at yacht design full time.

In addition, with the success of Larry Pardee's Seraffyn, designed by Hess, and the subsequent articles written about her, he was asked to design a 28' version, the BRISTOL CHANNEL CUTTER, for construction in fiberglass by the Sam L. Morse Company of Costa Mesa.

Sailboats Designed By Lyle C. Hess
20 Sailboats / Per Page: 25 / Page: 1