C. William Lapworth
1919 - 2006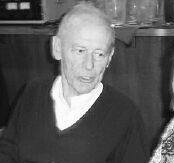 Excerpts from an interview conducted in 2004:

William "Bill" Lapworth was perhaps the foremost West Coast Naval Architect in the post World War II period. Born in Detroit, Michigan, he attended and graduated from the University of Michigan with a degree in marine engineering and naval architecture. After serving in the navy during World War II, Lapworth settled on the west coast and became partners with Merle Davis who had a yacht design office in Los Angeles. Davis died less than a year later.

At first, Lapworth paid the bills by doing surveying work.
Soon he was designing a series of light displacement racing sailboats that began to win or place highly on the East and West Coasts, beginning with Flying Scotsman and Nalu II, 46' -- a four time Class C Transpac race winner and first overall in 1959. Next came the 50' sloop Ichiban, second overall in the 1961 Transpac. By 1958, more than 70 of the wooden L-36' sloops had been built; but, by then fiberglass was becoming the material of choice.

All this attracted the attention of boat builder Jack Jensen who, one day walked in to Lapworths office and, with a handshake, was to form one of the most successful relationships in yachting history.
The first boat boat for Jensen was a 24 footer which Jensen proposed to be called the Lapworth 24. But Lapworth felt that since he had previously designed a 24 footer for someone else, a new name was called for.
According to Lapworth, this is when they decided on the name 'Cal' boats.

Together, Lapworth and Jensen produced thousands of boats including the Cal 20 (the most successful with more than 1,900 boats produced from 1961 to 1972), 24, 28, 29, 30, 33, 34, 36, 39, 40, and 46. The Lapworth/Jensen association continued until the Jensen's death in 1980.
In is later years Lapworth kept his own Cal 46 which he said was the favorite of all his designs.
Sailboats Designed By C. William Lapworth
54 Sailboats / Per Page: 25 / Page: 1