Alfred E. Luders
1909 - 1999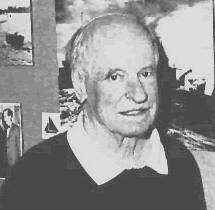 Alfred E.(Bill)Luders spent most of career working at Luders Marine Constuction, originally founded by his father. During WWII, the company built more than 100 vessels for the Military including minesweepers, patrol craft and submarine chasers.
During the 1930's, Luders had great success as designer and skipper in the six meter class.
In 1958, the yard built the America's Cup boat Weatherly to the design of Philip Rhodes. Weatherly was not a successful campaigner in that series, but after a redesign by Mr. Luders, she successfully defended the cup in 1964.
Among the many famous yachts Mr. Luders designed was the sloop American Eagle, built originally for the America's Cup competition but most successful as an ocean racer under the helm of media mogul, Ted Turner.
Mr. Luders designed , and his shipyard built, many others yachts for owners such as King Olaf V of Norway, actor Yul Brenner, Nelson Rockefeller and the Pulitzer family.
The Luders yard closed in 1968. The last racing yachts designed and built by him were a number of 5.5 meter sloops, a class used in Olympic and international competition.
Some of his better known yachts, built in series, are shown here.
Sailboats Designed By Alfred E. Luders
28 Sailboats / Per Page: 25 / Page: 1