Ian Proctor
1918 - 1992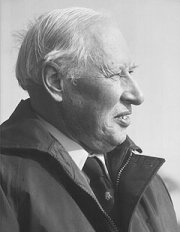 Ian Proctor was a prolific designer of both sailing dinghies and cruisers with more than one hundred designs to his credit.

Beginning in 1950, the National 12 was soon followed by the Merlin Rocket. Proctor's early designs were met with immediate success, winning many championships. Another notable boat was the WAYFARER (1958).

Among the most commercially successful of all his designs is the TOPPER, of which more than 46,000 have been produced to date. This was the first sailing dinghy to be produced from injection molded plastic.

Ian Proctor was also responsible for the design of several small cruisers. His first was the SEAGULL for Bell Woodworking, followed shortly by the SEAMEW. Later on there was the NIMROD, ECLIPSE, PIRATE, and PRELUDE.

In 1953 he designed the first all-metal tapered and extruded mast for sailing dinghies. Then in 1955 he established 'Ian Proctor Metal Masts Limited' as a commercial venture. Proctor Masts soon became the leading metal mast producers for all types of sailing craft. By 1960, 13 different countries were using Proctor masts in the Olympics and the 1987 America's Cup featured 12 boats using Proctor masts.

Some of his most popular designs are shown here.
Sailboats Designed By Ian Proctor
25 Sailboats / Per Page: 25 / Page: 1