Philip Rhodes
1895 - 1974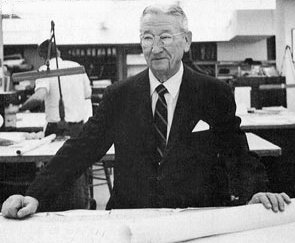 Philip L. Rhodes is one of the best known American boat designers of the 20th century. His career spanned more than 50 years.
Rhodes had worked at a number of firms before joining Cox & Stevens, Inc., New York City in 1934. By 1947 this had become Philip L. Rhodes, Naval Architects and Marine Engineers.
Rhodes and his firm were pioneers in the development of fiberglass construction methods. The Bounty II for Coleman Plastics in 1956 became one of the earliest yachts built of fiberglass, and established the viability of the new material for larger production boats.
By the 1950's, Philip Rhodes spent most of his time as a manager of the firm. For many years, James McCurdy served as head of the Yacht Design Section. The actual designs of boats followed certain formula and guidelines Rhodes had developed earlier. Much of the later basic design work was done by his son Philip H. ("Bodie") Rhodes. Detailed layouts and drawings were done by Al Mason, Charles Jannace, and Dick Davis. Other designers worked on motor yachts, and commercial and military boats. In addition, Rhodes' other son Daniel Rhodes did brokerage work in the office.
Philip Rhodes retired in 1970.
Jim McCurdy and his son Bodie Rhodes had created their own yacht design company (McCurdy and Rhodes) in 1968.
Most of the Rhodes material is archived at the Daniel S. Gregory Ships Plans Library, (Philip L. Rhodes Collection) Mystic Seaport Museum.
Listed here are some of the better known, 'series built' designs.
Sailboats Designed By Philip Rhodes
57 Sailboats / Per Page: 25 / Page: 1