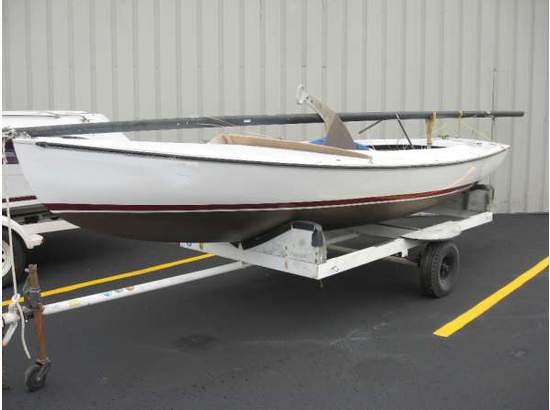 Sailboat Specifications
Hull Type:
Centerboard Dinghy
Rigging Type:
Fractional Sloop
LOA:
18.00 ft / 5.49 m
LWL:
16.33 ft / 4.98 m
Beam:
5.33 ft / 1.62 m
S.A. (reported):
180.00 ft2 / 16.72 m2
Draft (max):
4.25 ft / 1.30 m
Draft (min):
1.25 ft / 0.38 m
Displacement:
750 lb / 340 kg
S.A./Disp.:
34.95
Disp./Len.:
76.89
First Built:
1935
Last Built:
1967
Builder:
J. Christensen/Stamm Boat Co. (USA)
Capsize Screening Formula:
2.35
Notes
The ARROW was once a popular one-design class on Lake Michigan (USA). Though the original builder went out of business after World War II and it's thought that nor more than 200 were ever built.It survived a transition to fiberglass construction, but did not thrive afterward.Raced with main and jib only. As best as can be determined, any kind of class organization had disappeared by 1970.(Even a photograph has proved to be hard to find.)Pictured here is a later fiberglass version built by Stamm Boat Co.Stamm Boat Co. was located in Delefield, Wisconsin, (USA) It's unlikely that any boats were built commercially after 1967.Update (November 2018): The Arrow is still being raced on lake Michigan with the last remaining fleet (~10 boats of which around 4 race regularly) based in Wilmette Harbor.