BRISTOL 35
Save to Favorites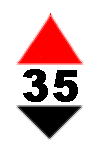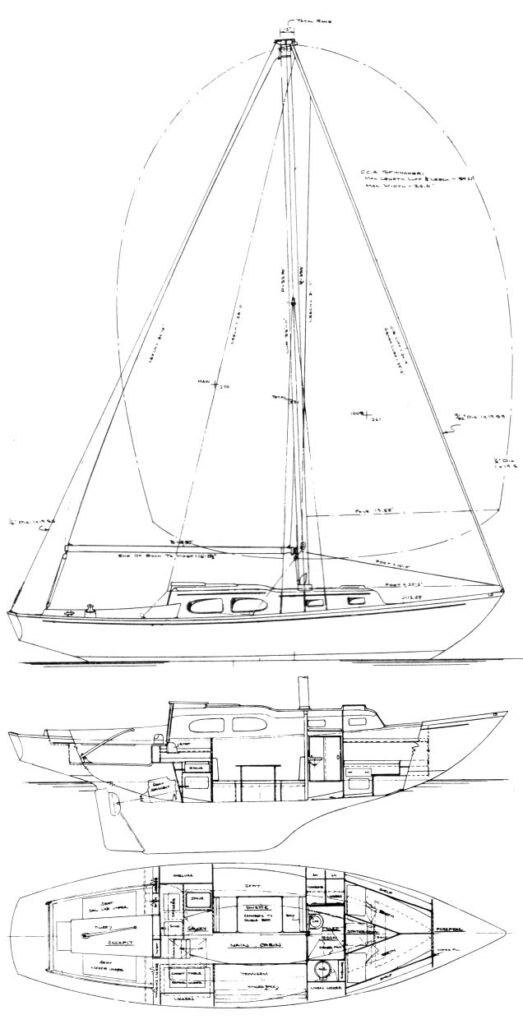 | | |
| --- | --- |
| Hull Type: | Fin Keel |
| Rigging Type: | Masthead Sloop |
| LOA: | 34.65 ft / 10.56 m |
| LWL: | 23.75 ft / 7.24 m |
| S.A. (reported): | 529.00 ft² / 49.15 m² |
| Beam: | 10.00 ft / 3.05 m |
| Displacement: | 12,500.00 lb / 5,670 kg |
| Ballast: | 5,200.00 lb / 2,359 kg |
| Max Draft: | 5.00 ft / 1.52 m |
| Construction: | FG (solid laminate) |
| Ballast Type: | Lead |
| First Built: | 1966 |
| Last Built: | 1978 |
| # Built: | 65 |
| Builder: | Bristol Yachts Inc. (USA) |
| Designer: | Clifford P. Swain /John G. Alden Assoc. |
Auxiliary Power/Tanks (orig. equip.)
| | |
| --- | --- |
| Make: | Universal |
| Model: | Atomic 4 |
| Type: | Gas |
| HP: | 30 |
| Fuel: | 25 gals / 95 L |
| | |
| --- | --- |
| S.A. / Displ.: | 15.77 |
| Bal. / Displ.: | 41.60 |
| Disp: / Len: | 416.55 |
| Comfort Ratio: | 33.29 |
| Capsize Screening Formula: | 1.73 |
| S#: | 0.99 |
| Hull Speed: | 6.53 kn |
| Pounds/Inch Immersion: | 848.61 pounds/inch |
Rig and Sail Particulars
HELP
| | |
| --- | --- |
| I: | 38.66 ft / 11.78 m |
| J: | 13.55 ft / 4.13 m |
| P: | 33.92 ft / 10.34 m |
| E: | 15.90 ft / 4.85 m |
| S.A. Fore: | 261.92 ft² / 24.33 m² |
| S.A. Main: | 269.66 ft² / 25.05 m² |
| S.A. Total (100% Fore + Main Triangles): | 531.58 ft² / 49.39 m² |
| S.A./Displ. (calc.): | 15.85 |
| Est. Forestay Length: | 40.97 ft / 12.49 m |
Notes
Alden design #1000. Clifford Swain, who drew the lines for this yacht, was chief designer for the Alden firm at this time. Available with standard or dinette interior (shown here).
(Thanks to 'Snurrbart', for providing updated information.)
Keel/CB version: BU: 3.75'; BD: 9.0'
Also available as a yawl.
I: 38.66'
J: 13.55'
P: 33.92'
E: 15.60'
PY:17.00'
EY: 6.75'
Total SA: 584 sq.ft.