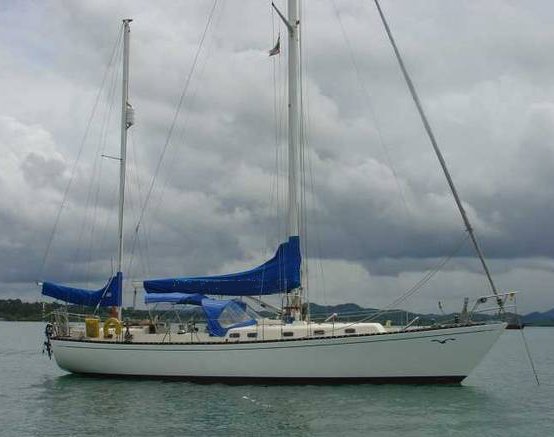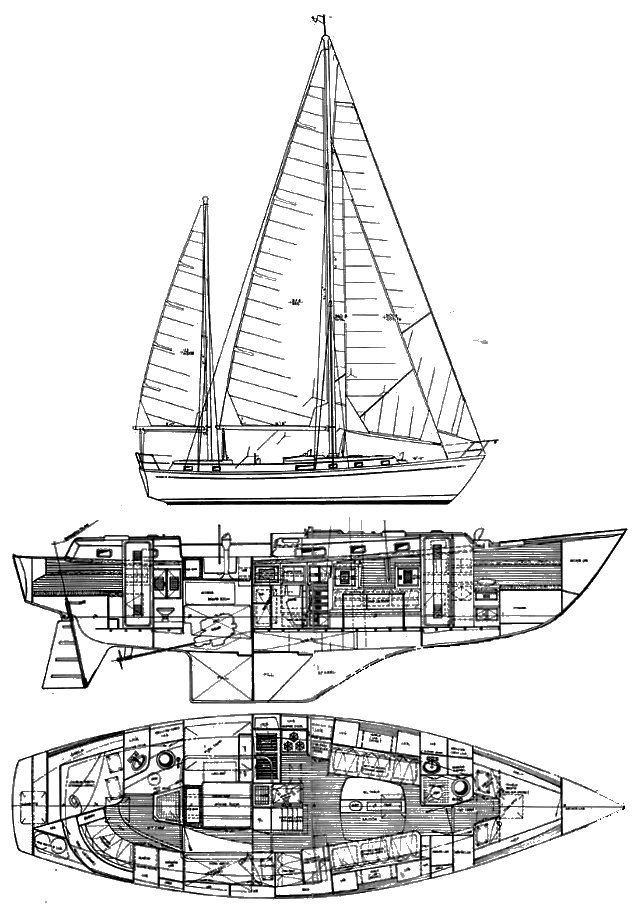 Sailboat Specifications
Hull Type:
Fin with rudder on skeg
Rigging Type:
Staysail Ketch
LOA:
13.18 m
LWL:
10.77 m
Beam:
3.86 m
S.A. (reported):
74.97 m2
Draft (max):
1.92 m
Draft (min):
0.67 m
Displacement:
11,340 kg
Ballast:
5,080 kg
S.A./Disp.:
15.16
Bal./Disp.:
44.80
Disp./Len.:
253.08
Builder:
Cape Yachts (HK)
Auxiliary Power/Tanks
(orig. equip.)
Make:
Universal
Model:
M50B
Capsize Screening Formula:
1.74
S.A. Fore:
44.88 m2
S.A. Main:
30.11 m2
S.A. Total (100% Fore + Main Triangles)
74.99 m2
S.A./Disp. (calc.):
15.17
Est. Forestay Len.:
17.03 m
Accommodations
Sailboat Links
Notes
This from designer, Ted Brewer: "The yacht is a grp version of the custom, wood, 'Black Velvet' (see her on www.tedbrewer.com under Sail - Wood.). The first fibreglass versions were built by Cape North in Hong Kong, in the mid '70s, as the Cape North 43. Later a Philippine firm obtained the molds and produced a few.The CN 43s were good boats and several did well in prestigious ocean races in the '70s and '80s, including a China Sea Race fro HK to Manila. Others survived some severe storms in the Atlantic on their way to Britain from the builders. The CN 43s seem to have been well built, under British management, but I have no idea of the quality of their Philippine sisterships."Owners plans can be purchased from Ted's Site shown above.