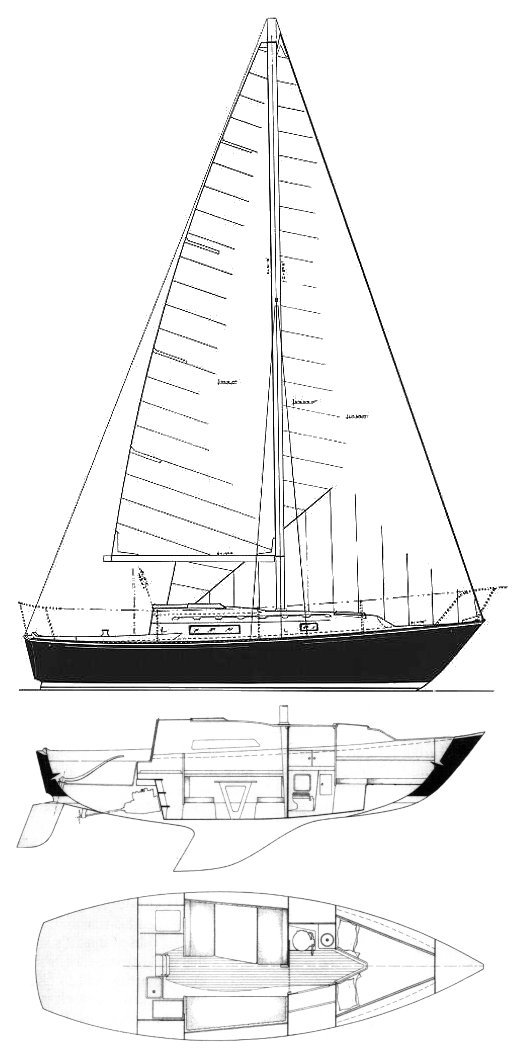 Sailboat Specifications
Hull Type:
Fin w/spade rudder
Rigging Type:
Masthead Sloop
LOA:
27.33 ft
LWL:
22.17 ft
Beam:
9.18 ft
S.A. (reported):
344.00 ft2
Draft (max):
4.25 ft
Draft (min):
Displacement:
5,180 lb
Ballast:
2,512 lb
S.A./Disp.:
18.44
Bal./Disp.:
48.49
Disp./Len.:
212.22
Construction:
FG w/balsa cored deck
Ballast Type:
Lead
First Built:
1970
Last Built:
1972
# Built:
167
Auxiliary Power/Tanks
(orig. equip.)
Make:
Universal
Model:
Atomic 4
Capsize Screening Formula:
2.13
S.A. Fore:
194.70 ft2
S.A. Main:
149.63 ft2
S.A. Total (100% Fore + Main Triangles)
344.33 ft2
S.A./Disp. (calc.):
18.46
Est. Forestay Len.:
35.05 ft
Sailboat Links
Notes
The C&C 27 (MK I-IV) was one of C&C Yachts most successful model. Almost 1000 were built over a period of nearly 10 years.(Until 1982)Mark I (hulls 1-167)(shown here) Mark II (168-452), produced from 1972 to 1974. Same dimensions as Mark I, except for a taller rig though with same sail area and other minor changes. Mark III (hull #s 435-915) (1974-1981. (See C&C 27 MK III)Taller rig than MKII. Hull stretched but beam is the same. Deeper keel with less ballast. Higher aspec rat. rudder. Same interior layout with minor changes.)Wheel steering introduced as an option in 1976. Diesel power offered as an option in 1978. Later, the Yanmar SYP 12 diesel became standard. Mark IV (916-972) ran from 1981 to 1982. Same dimensions as Mark III, except the forestay was set back about four inches to accommodate a bow roller (resulting in a reduced 'J' measurement.)Std. auxiliary power became Yanmar 2GM.(The C&C 27 MK V is totally new design)Another version (similar to C&C 27 MKI) called the TRAPPER 500 was built in the UK. An 'unauthorized', most likely 'splashed', version was built in Germany called the KORNEUBURG 27 or K 27.C&C 27 MK I available with a taller rig:I: 35.00'/10.67mJ: 11.80'/3.60mP: 29.80'/9.08mE: 9.80'/2.99mTotal SA: (100%): 352.52 ft2/32.75 m2
Latest Topics
No Topics Found.