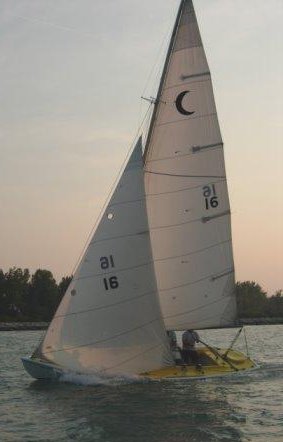 Sailboat Specifications
Hull Type:
Fin Keel
Rigging Type:
Fractional Sloop
Beam:
1.98 m
S.A. (reported):
13.56 m2
Displacement:
1,202 kg
Ballast:
544 kg
S.A./Disp.:
12.23
Bal./Disp.:
45.28
Disp./Len.:
186.85
First Built:
1953
Last Built:
1974
# Built:
27
Builder:
M. E. Hill / Customflex (USA)
Designer:
Richard C. Hill
Capsize Screening Formula:
1.88
Sailboat Links
Notes
The Crescent, one of the earliest fiberglass sailboats built in the US, took its name from the Crescent Sail Yacht Club on Lake St. Clair in Michigan, USA.It began as a garage project by Richard Hill, an artist and auto industry model maker. The initial mold was made of plaster using an existing wood, hard chined racing sloop of unknown design as a plug. The resin used was actually called Vibrin, and was not available in large quantities at the time. After building a few boats for friends, production was turned over to Custom-Flex, a Toledo Ohio boat builder. A new, mold was made and a few additional boats were turned out in the mid-1960's.(rb-5/2008); (ed. 11/2013).