FLICKA 20
Save to Favorites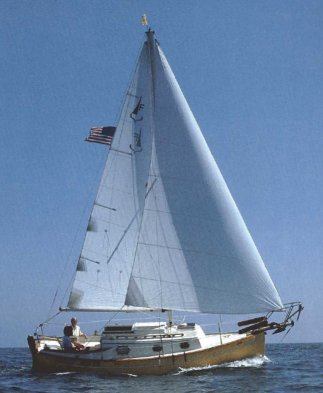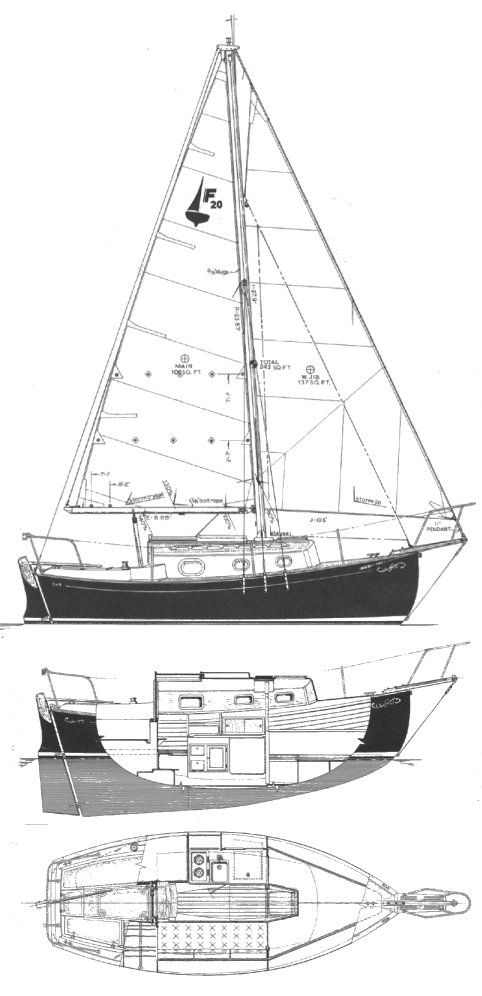 | | |
| --- | --- |
| Hull Type: | Long keel w/trans. hung rudder |
| Rigging Type: | Cutter |
| LOA: | 24.00 ft / 7.32 m |
| LOD: | 20.00 ft / 6.10 m |
| LWL: | 18.17 ft / 5.54 m |
| S.A. (reported): | 250.00 ft² / 23.23 m² |
| Beam: | 8.00 ft / 2.44 m |
| Displacement: | 6,000.00 lb / 2,722 kg |
| Ballast: | 1,750.00 lb / 794 kg |
| Max Draft: | 3.25 ft / 0.99 m |
| Construction: | FG |
| First Built: | 1974 |
| Last Built: | 1999 |
| # Built: | 400 |
| Builder: | Nor'Star Fiberglass Yachts/Pacific Seacraft (USA) |
| Designer: | Bruce Bingham |
Accomodations
| | |
| --- | --- |
| Headroom: | 6.00 ft / 1.83 m |
| | |
| --- | --- |
| S.A. / Displ.: | 12.15 |
| Bal. / Displ.: | 29.17 |
| Disp: / Len: | 446.52 |
| Comfort Ratio: | 29.16 |
| Capsize Screening Formula: | 1.76 |
| S#: | 0.73 |
| Hull Speed: | 5.71 kn |
| Pounds/Inch Immersion: | 519.39 pounds/inch |
Rig and Sail Particulars
HELP
| | |
| --- | --- |
| I: | 28.17 ft / 8.59 m |
| J: | 10.50 ft / 3.20 m |
| P: | 24.00 ft / 7.32 m |
| E: | 9.50 ft / 2.90 m |
| S.A. Fore: | 147.89 ft² / 13.74 m² |
| S.A. Main: | 114.00 ft² / 10.59 m² |
| S.A. Total (100% Fore + Main Triangles): | 261.89 ft² / 24.33 m² |
| S.A./Displ. (calc.): | 12.73 |
| Est. Forestay Length: | 30.06 ft / 9.16 m |
Notes
Rig measurements are from an article by Bruce Bingham in The Small Boat Journal.
Pacific Seacraft lists the rig at:
I = 27.9 ft
J = 10.5 ft
P = 23.83 ft
E = 9.5 ft
And the Displacement as 6,000 lbs

Began as plans available for amateur builder.(Over 200 sets sold)
The designer began building a plug for a Flicka of his own, but circumstances forced its sale to Nor'star Marine, CA, USA, before completion.
By 1975, Nor'star was building Flicka's, either as owner-finished kits, or boats completed under contract by Westerly Marine of Cosa Mesa.
In 1977 Nor'star ceased production.
In 1978 Pacific Seacraft bought the tooling and built it's version until 1998.
Over the years other Flicka's have been built from varying materials. Decks, interiors and rigs can differ widely.