FRIENDSHIP 30 (BRUNO & STILLMAN)
Save to Favorites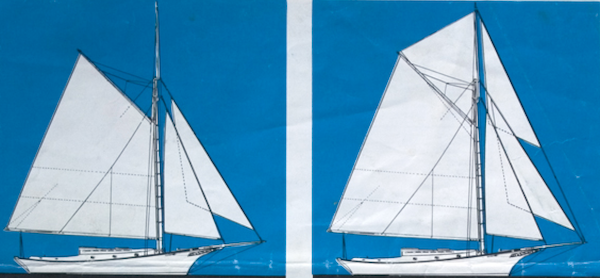 | | |
| --- | --- |
| Hull Type: | Long Keel |
| Rigging Type: | Gaffhead Sloop |
| LOA: | 42.00 ft / 12.80 m |
| LWL: | 25.00 ft / 7.62 m |
| S.A. (reported): | 656.00 ft² / 60.94 m² |
| Beam: | 10.00 ft / 3.05 m |
| Displacement: | 12,540.00 lb / 5,688 kg |
| Ballast: | 3,800.00 lb / 1,724 kg |
| Max Draft: | 4.50 ft / 1.37 m |
| Construction: | FG |
| Ballast Type: | Lead |
| First Built: | 1969 |
| Last Built: | 1973 |
| # Built: | 19 |
| Builder: | Bruno & Stillman (USA) |
| Designer: | Marbridge Associates |
Auxiliary Power/Tanks (orig. equip.)
| | |
| --- | --- |
| Make: | Atomic 4 |
| Type: | Gasoline |
| HP: | 30 |
| Fuel: | 30 gals / 114 L |
| | |
| --- | --- |
| S.A. / Displ.: | 19.51 |
| Bal. / Displ.: | 30.30 |
| Disp: / Len: | 358.29 |
| Comfort Ratio: | 29.98 |
| Capsize Screening Formula: | 1.72 |
| Hull Speed: | 6.70 kn |
| Pounds/Inch Immersion: | 893.28 pounds/inch |
Rig and Sail Particulars
HELP
| | |
| --- | --- |
| Mast Height from DWL: | 47.00 ft / 14.33 m |
Notes
The following is a brief history of Friendship Sloops by Betty Roberts, found on the Friendship Sloop Society website ( fss.org):
A beautiful gaff-rigged sloop developed around 1880 from the fishing and lobstering needs of the men of Muscongus Bay on the Maine coast. The original builders constructed sloops varying in length of 21' - 50'. Probably the average length would be about 30' - 40'. They all had an elliptical stern, and most of them a clipper bow, and were gaffed rigged.
The pre-set formula included such measurements as: the beam equaled one third the overall length, and the length of the mast should equal the length overall plus half the draft, etc.
In 1903 there were 22 sloops being built on the shores of Bremen Long Island alone.
Builders include: Carters, McLains, Collomores, Winchenbachs, Morses and others but Wilbur Morse's name comes up as father of the Friendship Sloop due to the large number that came from his shop.
Wilbur's mass production and his shop being located in Friendship, this great sloop acquired the name of the town he was building in.

The above Friendship 30 was one of the first Friendship Sloops made from fiberglass.
LOD: 30.5 ft
Engine options:
Volvo Penta MD2, 15.5 hp diesel
Osco 21, 21 hp diesel
Reported sail area above includes main, staysail and jib. Add main topsail and jib topsail. SA becomes 860 sqft.