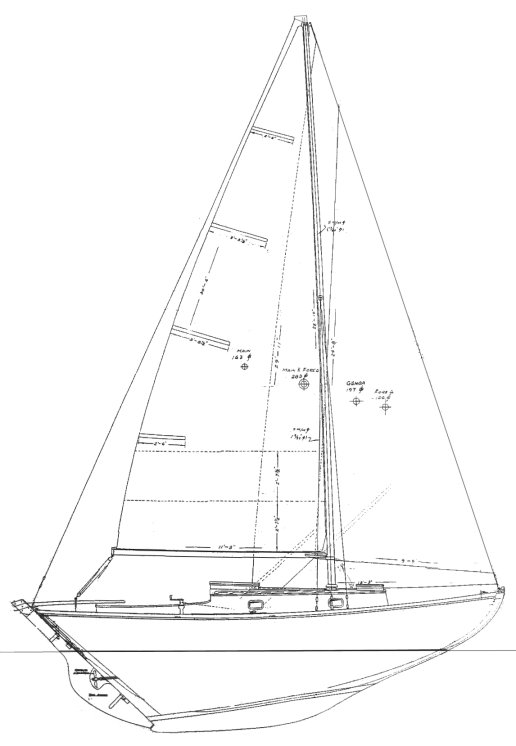 Sailboat Specifications
Hull Type:
Long keel w/trans. hung rudder
Rigging Type:
Masthead Sloop
Beam:
2.19 m
S.A. (reported):
28.89 m2
Displacement:
2,495 kg
Ballast:
1,016 kg
S.A./Disp.:
16.02
Bal./Disp.:
40.73
Disp./Len.:
331.14
Construction:
Wood or FG
Ballast Type:
Iron
Builder:
Cheoy Lee Shipyard Ltd.(HK)
Designer:
Tord Sunden/Cheoy Lee
Capsize Screening Formula:
1.63
S.A. Fore:
13.25 m2
S.A. Main:
15.62 m2
S.A. Total (100% Fore + Main Triangles)
28.87 m2
S.A./Disp. (calc.):
16.01
Est. Forestay Len.:
10.04 m
Sailboat Links
Notes
The FRISCO FLYER was first produced as the PACIFIC CLIPPER and later as the OFFSHORE 26. The name "Frisco Flyer" originated with the Richard Reed, yacht brokerage in San Francisco. Their brochure decribed it as a "modified Folkboat." The FOLKBOAT was originally designed by Tord Sunden, and modifications to the design were made by unnamed Cheoy Lee staff. There are three types, all available with various options (diesel vs. gas, stainless vs. plow steel rigging, canvas vs. teak decks, etc.): a. PACIFIC CLIPPER: all teak, small trunk cabin, original Folkboat-like fractional rig with double spreaders and returning shrouds. Sometimes referred to as a FRISCO FLYER Mark I.b. FRISCO FLYER Mark II, larger teak trunk cabin, masthead rig.c. FRISCO FLYER Mark III, larger teak doghouse cabin, some standing headroom, masthead rig.The first FRISCO FLYER was built in 1957 and made two single-handed Atlantic crossings that year.