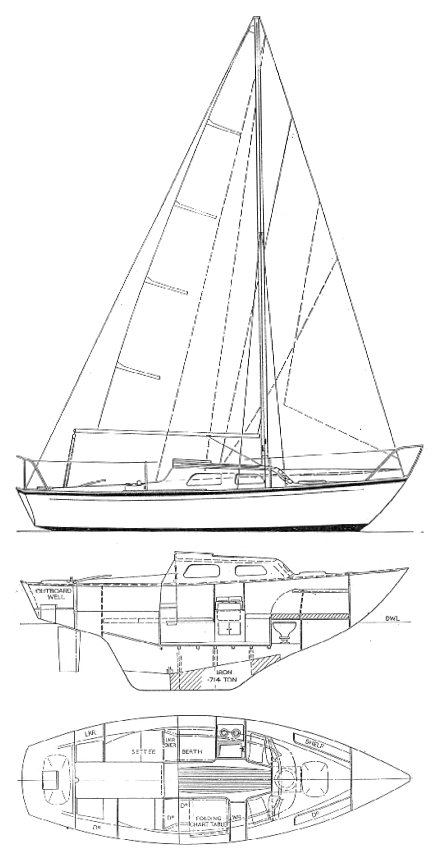 Sailboat Specifications
Hull Type:
Fin w/spade rudder
Rigging Type:
Masthead Sloop
Beam:
2.26 m
S.A. (reported):
22.30 m2
Draft (max):
1.14 m
Draft (min):
Displacement:
1,814 kg
Ballast:
1,043 kg
S.A./Disp.:
15.28
Bal./Disp.:
57.50
Disp./Len.:
363.47
Construction:
FG
Ballast Type:
Iron or Lead
First Built:
1966
Last Built:
1975
# Built:
1200
Builder:
A.G. Hurley Marine Ltd, (UK)
Designer:
Ian L. Anderson
Capsize Screening Formula:
1.87
Sailboat Links
Notes
The HURLEY 22 was the company's most popular model. After Hurley Marine went out of business, the boat was built by South Coast Marine and then Ravensail. Ravensail called their version the HURLEY 22R. Later still, some were built (under license)in Holland. (HURLEY 700) HURLEY 22's differ from one another in many details including mast lengths, ballast material, internal finish and etc.. Fin or bilge keels. Bilge keel version draws 2.5'. Earlier, non-bilge keel models, had a different shaped rudder on skeg. Ballast and disp. numbers that seem to be shared across most of the manufacturers literature seem to be unrealistic though they are quoted here.(Designer has stated bal/disp ratio was to be 40%.)
Latest Topics
No Topics Found.