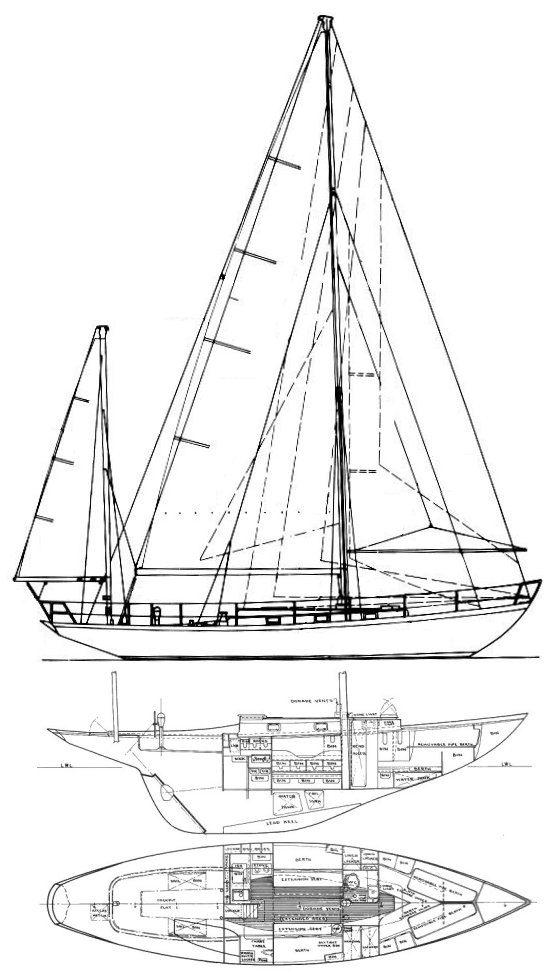 Sailboat Specifications
Hull Type:
Long Keel
Rigging Type:
Masthead Yawl
Beam:
3.23 m
S.A. (reported):
91.04 m2
Draft (max):
1.83 m
Draft (min):
Displacement:
10,614 kg
Ballast:
S.A./Disp.:
19.24
Bal./Disp.:
Disp./Len.:
386.90
Construction:
Wood
Ballast Type:
First Built:
1939
Last Built:
# Built:
12
Builder:
Luders Marine Construction
Capsize Screening Formula:
1.49
S.A. Fore:
40.24 m2
S.A. Main:
38.88 m2
S.A. Total (100% Fore + Main Triangles)
79.12 m2
S.A./Disp. (calc.):
16.72
Est. Forestay Len.:
16.77 m
Sailboat Links
Notes
Built for the US Naval Academy by Luders Marine Construction. (AKA NAVAL ACADEMY YAWL/NA 44) Originally of wood planked construction (1939). Replaced with a fiberglass version (by Uniflite) in 1963 with a slightly different hull/rig design and different interior layout. (4 went to the US Coast Guard)A few of the FG version were sold to individuals as sloops/cutters. (See ANNAPOLIS 44). Naval Academy boats were passed on to the US Coast Guard Academy for a few years before being sold off to individuals. (Replaced in 1985 with the NAVY 44/DEFIANCE CLASS by McGurdy & Rhodes and again, in 2000, with a Dave Pedrick designed 44 footer.)The layout shown here is for the original wood version.Thanks to Mainbrace 76, and several others for providing additional background information.Specs above are for the original wood version See LUDERS 44 (FG) for specs on the Fiberglass (1963) version.
Latest Topics
No Topics Found.