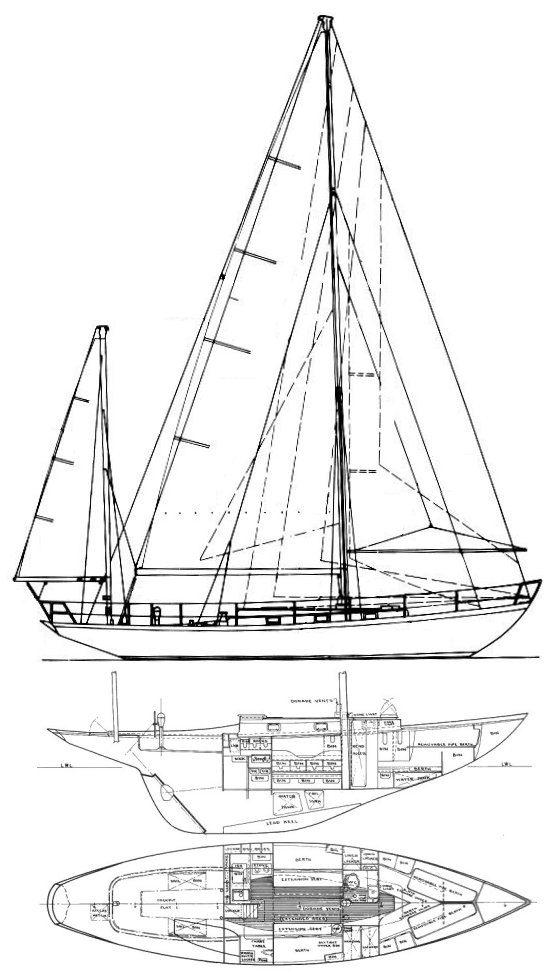 Sailboat Specifications
Hull Type:
Long Keel
Rigging Type:
Masthead Yawl
Beam:
3.35 m
S.A. (reported):
83.61 m2
Draft (max):
1.83 m
Draft (min):
Displacement:
1,061 kg
Ballast:
S.A./Disp.:
81.90
Bal./Disp.:
0.00
Disp./Len.:
38.31
Construction:
Wood/FG
Ballast Type:
First Built:
1939
Last Built:
# Built:
12
Builder:
Luders Marine Construction/Uniflite Corp.
Capsize Screening Formula:
3.32
S.A. Fore:
40.24 m2
S.A. Main:
38.88 m2
S.A. Total (100% Fore + Main Triangles)
79.12 m2
S.A./Disp. (calc.):
77.49
Est. Forestay Len.:
16.77 m
Sailboat Links
Notes
Built for the US Naval Academy by Luders Marine Construction. (AKA NAVAL ACADEMY YAWL/NA 44) Originally of wood planked construction (1939). Replaced with a fiberglass version (by Uniflite) in 1963 with a slightly different hull/rig design and different interior layout. (4 went to the US Coast Guard)A few of the FG version were sold to individuals as sloops/cutters. (See ANNAPOLIS 44). Naval Academy boats were passed on to the US Coast Guard Academy for a few years before being sold off to individuals. (Replaced in 1985 with the NAVY 44/DEFIANCE CLASS by McGurdy & Rhodes and again, in 2000, with a Dave Pedrick designed 44 footer.)The layout shown here is for the original wood version.Thanks to Mainbrace 76, and several others for providing additional background information.Fiberglass (1963) version shown above.