MEGA 30 OD (C&C)
Save to Favorites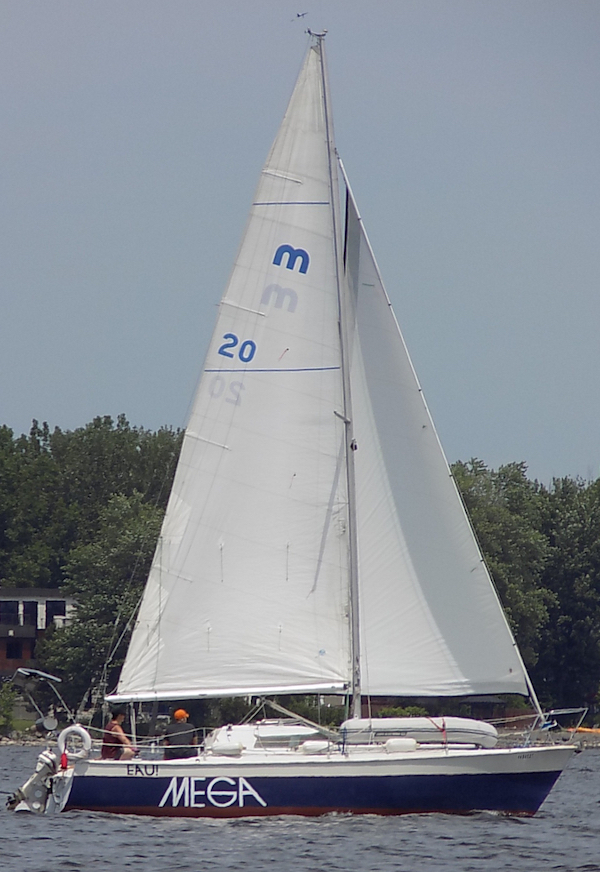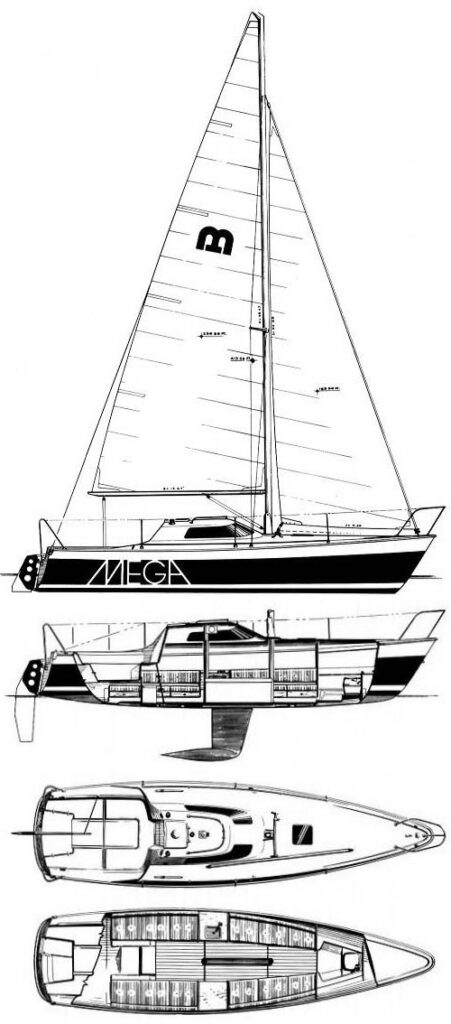 | | |
| --- | --- |
| Hull Type: | Lifting Keel |
| Rigging Type: | Fractional Sloop |
| LOA: | 29.92 ft / 9.12 m |
| LWL: | 27.33 ft / 8.33 m |
| S.A. (reported): | 428.00 ft² / 39.76 m² |
| Beam: | 7.92 ft / 2.41 m |
| Displacement: | 4,500.00 lb / 2,041 kg |
| Ballast: | 2,250.00 lb / 1,021 kg |
| Max Draft: | 5.00 ft / 1.52 m |
| Min Draft: | 2.00 ft / 0.61 m |
| Construction: | FG |
| Ballast Type: | Iron |
| First Built: | 1977 |
| # Built: | 115 |
| Builder: | C&C Yachts |
| Designer: | C&C Design |
| | |
| --- | --- |
| S.A. / Displ.: | 25.20 |
| Bal. / Displ.: | 50.00 |
| Disp: / Len: | 98.41 |
| Comfort Ratio: | 15.71 |
| Capsize Screening Formula: | 1.92 |
| S#: | 5.55 |
| Hull Speed: | 7.01 kn |
| Pounds/Inch Immersion: | 773.41 pounds/inch |
Rig and Sail Particulars
HELP
| | |
| --- | --- |
| I: | 33.30 ft / 10.15 m |
| J: | 11.00 ft / 3.35 m |
| P: | 35.70 ft / 10.88 m |
| E: | 13.70 ft / 4.18 m |
| S.A. Fore: | 183.15 ft² / 17.02 m² |
| S.A. Main: | 244.55 ft² / 22.72 m² |
| S.A. Total (100% Fore + Main Triangles): | 427.70 ft² / 39.73 m² |
| S.A./Displ. (calc.): | 25.18 |
| Est. Forestay Length: | 35.07 ft / 10.69 m |
Notes
Originally developed as joint venture of C&C Yachts and North Sails. The concept of producing a mass marketed 30' trailerable one-design sailboat was brought to C&C by Peter Barrett of North Sails. Peter and George Cuthbertson oversaw the design concept which was done by the C&C Design Group, headed by Rob Ball. Robert Mazza was the project Manager for the Mega. In addition, Rob Ball, Steve Killing, George Cassian, Bill Goman, Clive Hussy, and George Hazen all had their initials on the Mega drawings.
Many thanks to Rob Mazza for providing this information.
This version of the MEGA 30, called the ONE-DESIGN, was first built in CANADA, and later in the US and Keil Germany. It featured a lifting keel with a bulb. Later US versions, for which the 'ONE-DESIGN' designation was dropped, had an entirely different fixed keel. The boat was sold in a number of countries. In Sweden it is known as the RUNN RACER 912.
Photo courtesy Adam Hunt.