SEAFARER 23 KESTREL (CRUISE)
Save to Favorites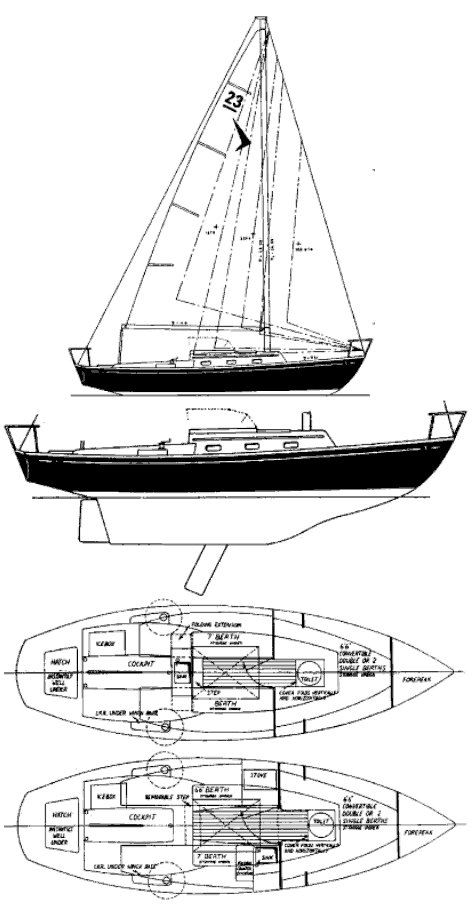 | | |
| --- | --- |
| Hull Type: | Keel/Cbrd. |
| Rigging Type: | Masthead Sloop |
| LOA: | 23.08 ft / 7.03 m |
| LWL: | 16.50 ft / 5.03 m |
| S.A. (reported): | 229.00 ft² / 21.27 m² |
| Beam: | 7.00 ft / 2.13 m |
| Displacement: | 3,700.00 lb / 1,678 kg |
| Ballast: | 1,400.00 lb / 635 kg |
| Min Draft: | 2.33 ft / 0.71 m |
| Construction: | FG |
| Ballast Type: | Iron |
| First Built: | 1963 |
| Builder: | G. de Vries Lentch Jr.(NED) |
| Designer: | Sparkman & Stephens |
| | |
| --- | --- |
| S.A. / Displ.: | 15.36 |
| Bal. / Displ.: | 37.84 |
| Disp: / Len: | 367.71 |
| Comfort Ratio: | 23.16 |
| Capsize Screening Formula: | 1.81 |
| S#: | 1.20 |
| Hull Speed: | 5.44 kn |
| Pounds/Inch Immersion: | 412.69 pounds/inch |
Rig and Sail Particulars
HELP
| | |
| --- | --- |
| I: | 26.83 ft / 8.18 m |
| J: | 7.61 ft / 2.32 m |
| P: | 23.08 ft / 7.03 m |
| E: | 11.00 ft / 3.35 m |
| S.A. Fore: | 102.09 ft² / 9.48 m² |
| S.A. Main: | 126.94 ft² / 11.79 m² |
| S.A. Total (100% Fore + Main Triangles): | 229.03 ft² / 21.28 m² |
| S.A./Displ. (calc.): | 15.36 |
| Est. Forestay Length: | 27.89 ft / 8.50 m |
Notes
S&S design #1631.
Imported by Seafarer. Also called KESTREL 22. 'CRUISE' is a designation used here for at least 2 versions of this yacht. Earlier literature shows 2 deck layouts and 2 accommodation plans being offered, resulting in four versions: CATALINA, NASSAU, NANTUCKET and MONHEGAN. The boat displayed here has a larger and longer coach roof and shorter cockpit in addition to a few other minor differences from the DAYSAILER versions. The boat shown also has an extended stern (The original S&S design listed LOA at 22'.)
By 1969 all versions were promoted as SEAFARER SAIL'N TRAIL 23. The small cabin version was the 'OLYMPIC', the medium was the CATALINA, and one with the largest cabin the 'NANATUCKET'.
There is also another, later, SEAFARER 23 (built at Seafarers Long Island, NY, USA plant), which is a completely different design.