Carl N. Beetle
1896 - 1952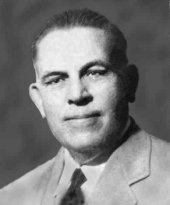 Grandson of the founder of Beetle Yard in MA,USA. After World War II, Carl Beetle decided his interests lay outside the tradition the company respresented and arranged to have the original BEETLE CAT sailboat built elsewhere.
Today he is remembered as a pioneer in the development of plastic boat construction techniques.
Founder of Beetle/Justin Plastics Inc.. He developed the first glass fiber gel-coated boat molds and is credited as the inventor of the catalyst spray gun.
Sailboats Designed By Carl N. Beetle
1 Sailboats / Per Page: 25 / Page: 1
| MODEL | LOA | FIRST BUILT | FAVORITE | COMPARE |
| --- | --- | --- | --- | --- |
| BEETLE CAT | 12.33 ft / 3.76 m | 1921 | | |