Reg White
1936 - 2010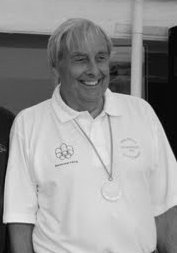 World renowned championship sailor, boat builder, designer, and icon in the world of multi-hulls. One his best known creations is the international Tornado class, (along with Rodney March), which retained Olympic class status for more than 2 decades. Founder of Sailcraft Ltd. at Brightlingsea, builder of some of the earliest glass fiber offshore cruiser-racer catamarans (designed my Rod Macalpine-Downie) firmly establishing the many benefits as well as the relative safety of this type with a wider sailing public.
With John Osborn he won the Tornado worlds, European championships as well as the Gold Medal for England in the 1976 Olympics.
He was involved in the development of the C class catamaran, (including the earliest successful use of the solid wing sail) and was 3 time winner of the International C class Challenge, (Little Americas Cup).
He was twice named 'Sailor of the Year' in the UK and was awarded the title 'Member of the British Empire'.
Sailboats Designed By Reg White
5 Sailboats / Per Page: 25 / Page: 1