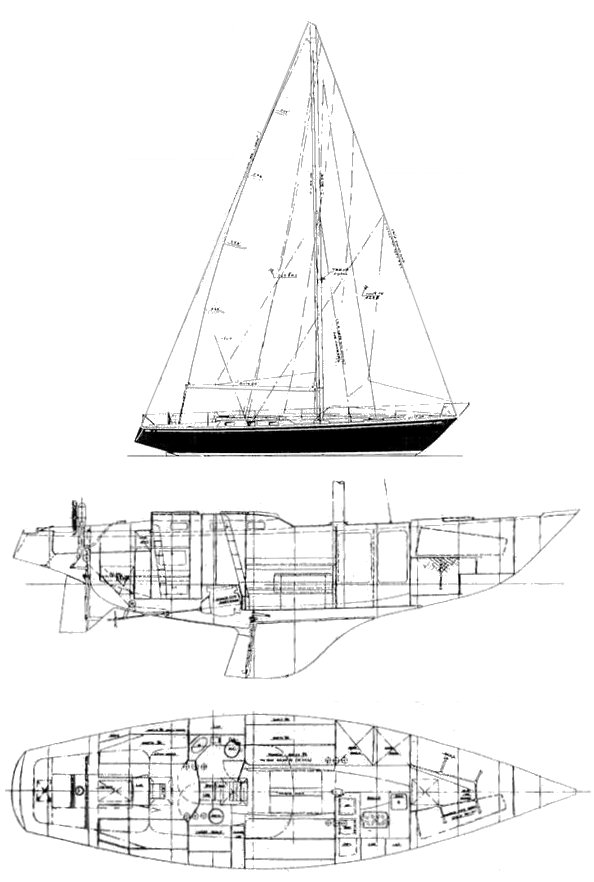 Sailboat Specifications
Hull Type:
Fin with rudder on skeg
Rigging Type:
Masthead Sloop
LOA:
41.50 ft / 12.65 m
LWL:
29.92 ft / 9.12 m
Beam:
11.42 ft / 3.48 m
S.A. (reported):
788.00 ft2 / 73.21 m2
Draft (max):
6.82 ft / 2.08 m
Displacement:
18,637 lb / 8,454 kg
Ballast:
9,700 lb / 4,400 kg
S.A./Disp.:
18.00
Bal./Disp.:
52.05
Disp./Len.:
310.63
Construction:
FG
Ballast Type:
Lead
First Built:
1969
Last Built:
1977
# Built:
15
Designer:
Sparkman $ Stephens
Auxiliary Power/Tanks
(orig. equip.)
Capsize Screening Formula:
1.73
Accommodations
Notes
Thanks to 'rmanganaro' for providing additional information including the following commentary:The design was commissioned by 12 individuals who wished to purchase the latest world class racer. (S&S was certainly the 'cutting edge' at the time). Alpa, selected as the builder, absorbed some of the cost of the tooling with high hopes of building and selling many more. The boats are said to be have been built to a very high standard, (with inspections by S&S, Lloyds of London at every stage of construction.) Costs also proved to be higher than expected. When the first 12 were finally delivered, the International Offshore Rule (IOR) had just been introduced, and these boats, originally designed to the RORC, could no longer be sold as the latest racing design. Alpa only sold 3 more besides the original 12 and the whole project created a huge financial strain on the company.