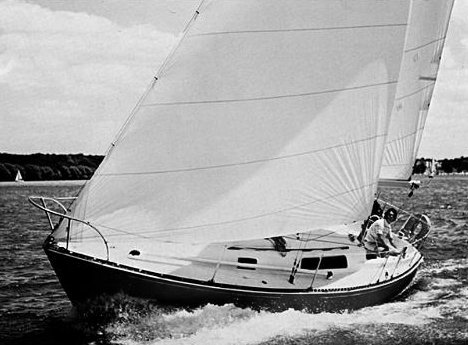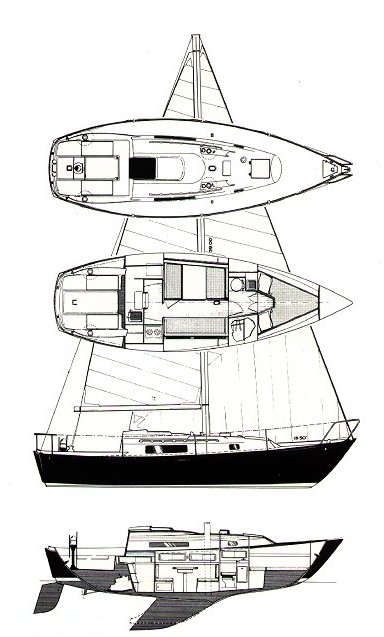 Sailboat Specifications
Hull Type:
Fin w/spade rudder
Rigging Type:
Masthead Sloop
LOA:
30.00 ft / 9.14 m
LWL:
24.92 ft / 7.60 m
Beam:
10.00 ft / 3.05 m
S.A. (reported):
459.00 ft2 / 42.64 m2
Draft (max):
5.00 ft / 1.52 m
Displacement:
8,000 lb / 3,629 kg
Ballast:
3,450 lb / 1,565 kg
S.A./Disp.:
18.42
Bal./Disp.:
43.13
Disp./Len.:
230.78
Construction:
FG
Ballast Type:
Lead
First Built:
1973
Last Built:
1981
# Built:
800
Builder:
C&C Yachts (CAN)
Auxiliary Power/Tanks
(orig. equip.)
Capsize Screening Formula:
2.00
I:
39.00 ft / 11.89 m
J:
13.50 ft / 4.11 m
P:
34.00 ft / 10.36 m
E:
11.50 ft / 3.51 m
S.A. Fore:
263.25 ft2 / 24.46 m2
S.A. Main:
195.50 ft2 / 18.16 m2
S.A. Total (100% Fore + Main Triangles)
458.75 ft2 / 42.62 m2
S.A./Disp. (calc.):
18.41
Est. Forestay Len.:
41.27 ft / 12.58 m
Notes
The C&C 30 Mk1, was in production for more than 12 years, longer than any other C&C model. During this period there were various small upgrades. The first boats came with a swept back, shark fin type keel/rudder configuration. In 1976 the rudder was changed from spade to a higher aspect shape. In 1978 the boom was raised a foot. Initially, the Universal Atomic 4 gas engine came as standard equipment. The QM15 Yanmar Diesel eventually became an option, up to hull no. 675. The QM was superseded by the Yanmar 2GM beginning with no. 676; otherwise, the remaining changes were minor.The dinette table support changed from a vee support to a post; the windows changed from the original aluminum frame type to an integrated, smoked plexiglass unit glued directly into the cabin structure. In an attempt to find the ideal bushing for the rudder post, various types were incorporated into the rudder tube over the years; and various minute detailing changes were made throughout the boat, especially in interior teak detailing. All 30s were built in Niagara on the Lake, Ontario.Shallow draft version: 4.2'.