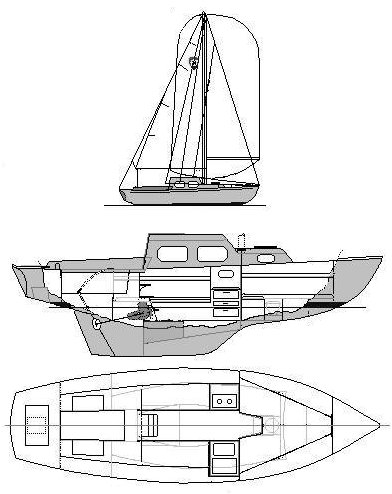 Sailboat Specifications
Hull Type:
Fin Keel
Rigging Type:
Masthead Sloop
LOA:
24.33 ft / 7.42 m
LWL:
18.00 ft / 5.49 m
Beam:
8.00 ft / 2.44 m
S.A. (reported):
285.00 ft2 / 26.48 m2
Draft (max):
3.33 ft / 1.01 m
Displacement:
4,050 lb / 1,837 kg
Ballast:
1,800 lb / 816 kg
S.A./Disp.:
18.00
Bal./Disp.:
44.44
Disp./Len.:
310.02
First Built:
1962
Last Built:
1964
# Built:
261
Builder:
Glass Laminates (USA)
Capsize Screening Formula:
2.01
Notes
For the COLUMBIA 24, Glass Laminates took the ISLANDER 24 hull (which they built for Joe McGlasson), added a bit of free board, and created a new deck & coach roof similar to that of the COLUMBIA 29. So, the COLUMBIA 24, the COLUMBIA CONTENDER 24, and COLUMBIA CHALLENGER 24, all derive from McGlasson's wooden CATALINA ISLANDER. The faux planking, that may have remained from the original hull, or created by other means, became an Islander trademark. (removed for the Columbia line.)This hull design was 'recycled' (form original molds or 'splashed' copies) was offered from a number of other builders under many different names for many years.