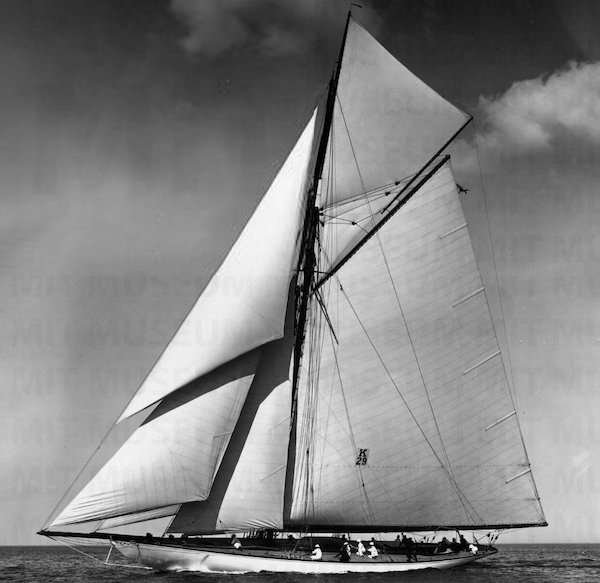 Sailboat Specifications
Hull Type:
Fin Keel
Rigging Type:
Cutter
LOA:
85.25 ft / 25.98 m
LWL:
62.67 ft / 19.10 m
Beam:
16.54 ft / 5.04 m
S.A. (reported):
5,012.00 ft2 / 465.63 m2
Draft (max):
10.83 ft / 3.30 m
Displacement:
120,600 lb / 54,703 kg
S.A./Disp.:
33.02
Disp./Len.:
218.74
Construction:
Wood planked on steel
Ballast Type:
Lead
First Built:
1906
Last Built:
1908
# Built:
3
Builder:
Herreshoff Manufacturing (USA)
Capsize Screening Formula:
1.34

Notes
aka 57 FOOT CLASS.Not actually called NEW YORK 57 when the three boats were first launched. (Original owners were NYYC members and newspaper articles described them as such.) The '57' is her original rating under the Universal Rule. They raced against each other as a class for at least one season and were later altered for handicap racing.Original names: 'Istalena', 'Aurora', and 'Winsome'. Shown here is Aurora.Winsome was later converted into a ketch, then a yawl.It is thought that the last surviving boat, Istalena, was lost in the 1960's.