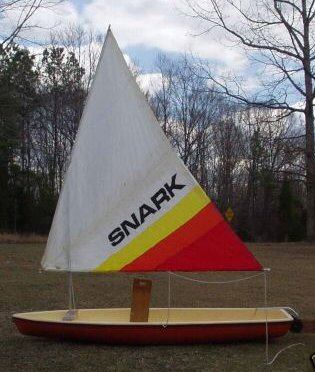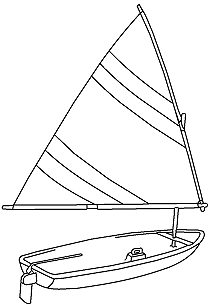 Sailboat Specifications
Hull Type:
Daggerboard
Rigging Type:
Lateen
Beam:
0.99 m
S.A. (reported):
4.18 m2
Draft (max):
0.36 m
Draft (min):
0.05 m
Displacement:
23 kg
Ballast:
S.A./Disp.:
53.04
Bal./Disp.:
Disp./Len.:
19.28
Construction:
ABS
Ballast Type:
First Built:
1958
Last Built:
# Built:
30000
Builder:
Meyers Boat Co. (USA)
Capsize Screening Formula:
3.53
Sailboat Links
Notes
Early SNARKs were one of the most popular sailing boats ever. This is partly due to the fact that they could be purchased with 'product coupons'. For example, a large number of Kool cigarette coupons could be redeemed for a SNARK with the Kool logo on the sail. It was also possible to purchase a SNARK with the KOOL logo (without smoking a single cigarette) for $99.The Kool ad campaign reportedly received 18000 SEA SNARK orders in 1971 alone!Most later SNARK's are made of styrofoam with an outer layer of ABS for improved durability.(Although the boats that were part of ad campaigns were usually built of styrofoam without the ABS shell.)
Latest Topics
No Topics Found.