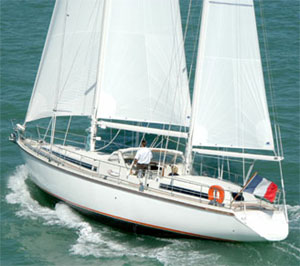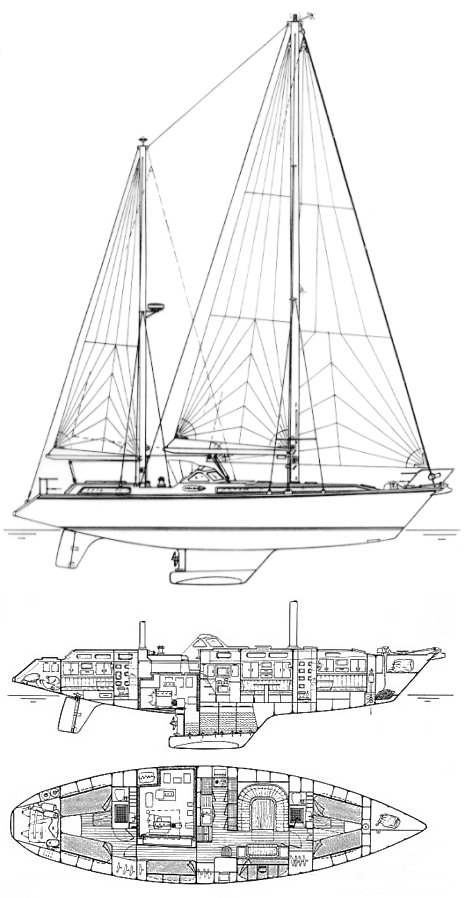 Sailboat Specifications
Hull Type:
Wing Keel
Rigging Type:
Masthead Ketch
LOA:
52.49 ft / 16.00 m
LWL:
41.34 ft / 12.60 m
Beam:
15.09 ft / 4.60 m
S.A. (reported):
1,302.00 ft2 / 120.96 m2
Draft (max):
6.73 ft / 2.05 m
Displacement:
35,274 lb / 16,000 kg
Ballast:
12,125 lb / 5,500 kg
S.A./Disp.:
19.45
Bal./Disp.:
34.37
Disp./Len.:
222.89
Construction:
FG
Ballast Type:
Iron
First Built:
1989
Last Built:
1998
# Built:
237
Designer:
Henry Amel & J. Carteau
Auxiliary Power/Tanks
(orig. equip.)
Make:
Perkins
Model:
MT80
Capsize Screening Formula:
1.84
Accommodations
Notes
Replacement to the MANGO 52. Listed Sail Area: From Amel's documentation on standard upwind sails:         Main Sail: 35 sq Metres         Genoa: 67 sq Metres         Mizzen: 19 sq Metres         Total: 121 sq Metres (1,302 sq feet)It can also carry (at the same time as the above although you usually drop the main):         Ballooner: 69 sq Metres         Mizzen Ballooner: 35 sq Metres        Which would bring the total to 190 sq Metres (2,045 sq feet)Auxillary power: There were three different standard engines used, the Perkins MT80 (80 HP) was the original, the similar but rebranded Volvo TMD22A (78-83 HP) and the Yanmar 4JH4-HE (78 HP). The most popular engine by far was the Volvo TMD22AThe SUPER MARAMU 2000 was introduced in 1999.Thanks to Brent Cameron for filling in some blanks and supplying updated information.