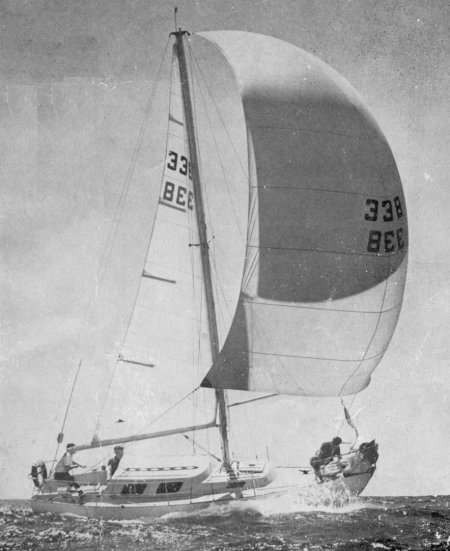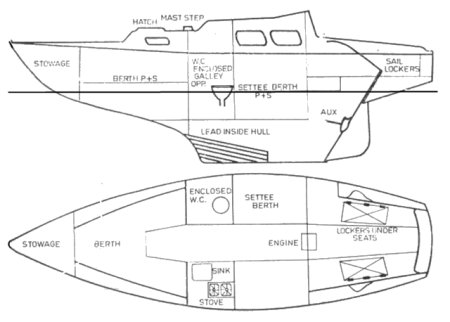 Sailboat Specifications
Hull Type:
Fin Keel
Rigging Type:
Masthead Sloop
LOA:
25.00 ft / 7.62 m
LWL:
20.50 ft / 6.25 m
Beam:
8.00 ft / 2.44 m
S.A. (reported):
286.00 ft2 / 26.57 m2
Draft (max):
4.25 ft / 1.30 m
Displacement:
5,600 lb / 2,540 kg
Ballast:
2,500 lb / 1,134 kg
S.A./Disp.:
14.55
Bal./Disp.:
44.64
Disp./Len.:
290.19
Construction:
Wood (cold molded)/FG
Ballast Type:
Lead
First Built:
1962
Last Built:
1990
Builder:
Mouldcraft/G. Baker (AUSTRALIA)
Designer:
Illingworth & Primrose
Capsize Screening Formula:
1.80

Notes
Originally designed in the 1962 to the newly formed J.O.G. Four versions were produced. Mk 0 - Mk 3. Five were know to have been built in Europe, all Mk 0. The first was displayed at the London Boat Show in 1963.16 Mark 0 timber Top Hats were built in Melbourne from late 1963 by Rob Legg at his company, Mouldcraft.Geoff Baker at Fiberglass Yachts built 59 Mark 1 Top Hats from 1965 until 1972.Formit Fibreglass purchased the molds from Fibreglass Yachts in 1972 and produced the last eight Mk 1's. Then by late 1972 the Mk 2's and in 1980 began building the Mk3's. By late 1985 continuous production of the Mark 3 had ceased with only a few one-offs being produce until the last one was sold in 1990.Formit added approx 221 lbs ballast. Interior layouts vary between versions but the hull remained the same.Some Mk 1's were purchased as bare hulls or kits for owner completion.It is thought that at least 400 have been built.Thanks to Phillip Bowman for sharing his research regarding Top Hat history (© May 15, 2020). For more information go to the Top Hat Yachts owners forum via the "Associations" link above.