ABLE 20
Save to Favorites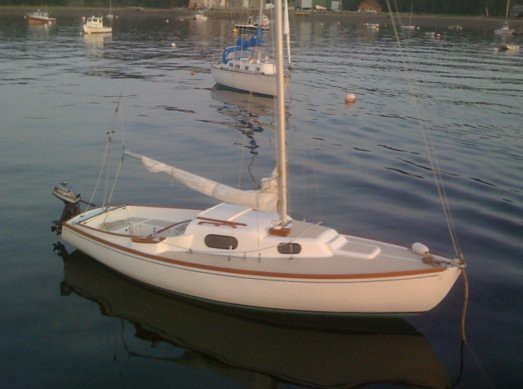 | | |
| --- | --- |
| Hull Type: | Long Keel |
| Rigging Type: | Masthead Sloop |
| LOA: | 20.00 ft / 6.10 m |
| LWL: | 16.00 ft / 4.88 m |
| S.A. (reported): | 202.00 ft² / 18.77 m² |
| Beam: | 7.33 ft / 2.23 m |
| Displacement: | 2,500.00 lb / 1,134 kg |
| Ballast: | 1,000.00 lb / 454 kg |
| Max Draft: | 2.42 ft / 0.74 m |
| Construction: | FG |
| Ballast Type: | Lead |
| First Built: | 1972 |
| Builder: | Loughlin Boat Works. (USA) |
| Designer: | W. R. Loughlin |
| | |
| --- | --- |
| S.A. / Displ.: | 17.59 |
| Bal. / Displ.: | 40.00 |
| Disp: / Len: | 272.48 |
| Comfort Ratio: | 15.81 |
| Capsize Screening Formula: | 2.16 |
| S#: | 1.88 |
| Hull Speed: | 5.36 kn |
| Pounds/Inch Immersion: | 419.05 pounds/inch |
Rig and Sail Particulars
HELP
| | |
| --- | --- |
| I: | 24.00 ft / 7.32 m |
| J: | 8.00 ft / 2.44 m |
| P: | 20.42 ft / 6.22 m |
| E: | 8.50 ft / 2.59 m |
| S.A. Fore: | 96.00 ft² / 8.92 m² |
| S.A. Main: | 86.79 ft² / 8.06 m² |
| S.A. Total (100% Fore + Main Triangles): | 182.79 ft² / 16.98 m² |
| S.A./Displ. (calc.): | 15.92 |
| Est. Forestay Length: | 25.30 ft / 7.71 m |
Notes
BUILDERS:

Loughlin Boat Works
Miami, FL (USA)

Able Shipwrights Inc.,
6 North Main Street
East Hampton, CT 06424

Able Marine
Southwest Harbor, ME

Later versions were said to have a taller rig and more ballast.
A Facebook article has appeared (2011).
An alternate name was ABLE SHIPRIGHT 20.

An original brochure and possibly other information is said to exist at the Mystic Seaport Museum.
How many were built is unknown (to us).