ARROW
Save to Favorites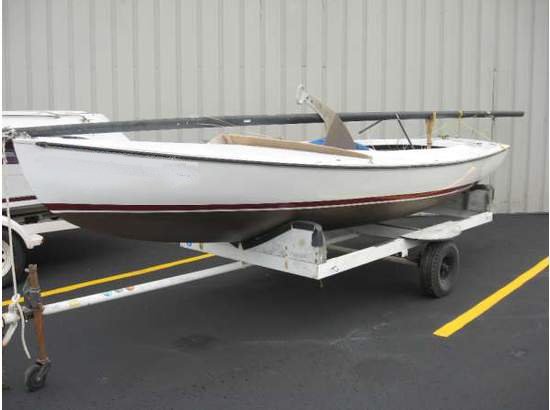 | | |
| --- | --- |
| Hull Type: | Centerboard Dinghy |
| Rigging Type: | Fractional Sloop |
| LOA: | 18.00 ft |
| LWL: | 16.33 ft |
| S.A. (reported): | 180.00 ft² |
| Beam: | 5.33 ft |
| Displacement: | 750.00 lb |
| Max Draft: | 4.25 ft |
| Min Draft: | 1.25 ft |
| Construction: | Wood/FG |
| First Built: | 1935 |
| Last Built: | 1967 |
| Builder: | J. Christensen/Stamm Boat Co. (USA) |
| Designer: | A. M. Deering |
| | |
| --- | --- |
| S.A. / Displ.: | 34.95 |
| Disp: / Len: | 76.89 |
| Comfort Ratio: | 7.40 |
| Capsize Screening Formula: | 2.35 |
| Hull Speed: | 5.41 kn |
| Pounds/Inch Immersion: | 311.00 pounds/inch |
Notes
The ARROW was once a popular one-design class on Lake Michigan (USA). Though the original builder went out of business after World War II and it's thought that nor more than 200 were ever built.
It survived a transition to fiberglass construction, but did not thrive afterward.
Raced with main and jib only. As best as can be determined, any kind of class organization had disappeared by 1970.
(Even a photograph has proved to be hard to find.)
Pictured here is a later fiberglass version built by Stamm Boat Co.
Stamm Boat Co. was located in Delefield, Wisconsin, (USA) It's unlikely that any boats were built commercially after 1967.
Update (November 2018): The Arrow is still being raced on lake Michigan with the last remaining fleet (~10 boats of which around 4 race regularly) based in Wilmette Harbor.