CYGNUS 20
Save to Favorites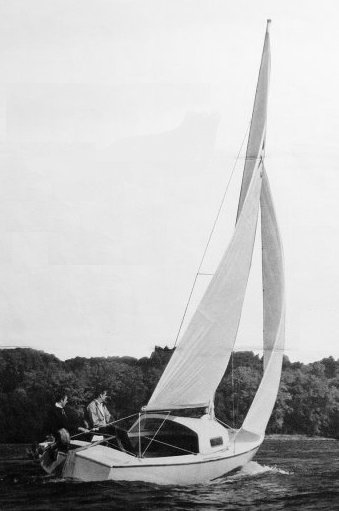 | | |
| --- | --- |
| Hull Type: | Centerboard (Trunk) |
| Rigging Type: | Fractional Sloop |
| LOA: | 20.00 ft / 6.10 m |
| LWL: | 17.50 ft / 5.33 m |
| S.A. (reported): | 178.00 ft² / 16.54 m² |
| Beam: | 7.00 ft / 2.13 m |
| Displacement: | 600.00 lb / 272 kg |
| Max Draft: | 2.67 ft / 0.81 m |
| Min Draft: | 0.67 ft / 0.20 m |
| Construction: | FG |
| First Built: | 1965 |
| Builder: | Hinterholler Ltd. /Skene Boats Ltd. (CAN) |
| Designer: | George Hinterhoeller |
| | |
| --- | --- |
| S.A. / Displ.: | 40.09 |
| Disp: / Len: | 49.98 |
| Comfort Ratio: | 3.80 |
| Capsize Screening Formula: | 3.32 |
| S#: | 9.23 |
| Hull Speed: | 5.61 kn |
| Pounds/Inch Immersion: | 437.71 pounds/inch |
Rig and Sail Particulars
HELP
| | |
| --- | --- |
| I: | 18.75 ft / 5.72 m |
| J: | 6.33 ft / 1.93 m |
| P: | 23.00 ft / 7.01 m |
| E: | 10.33 ft / 3.15 m |
| S.A. Fore: | 59.34 ft² / 5.51 m² |
| S.A. Main: | 118.80 ft² / 11.04 m² |
| S.A. Total (100% Fore + Main Triangles): | 178.14 ft² / 16.55 m² |
| S.A./Displ. (calc.): | 40.13 |
| Est. Forestay Length: | 19.79 ft / 6.03 m |
Notes
Coach roof/cuddy is detachable.

This from CYGNUS owner 'barklakemike':
"George Hinterhoeller in Niagara actually designed and built the first the HR 20 as he called it, in 1963. A class association formed in 1965 or 66 and the boat was renamed the Cygnus class. [Another early builder of the CYGNUS was Clarkecraft of St Catharines, Ontario].
The tooling was sold to Skene in Ottawa, (who also made Albacores); when Hinterhoeller became one of three boatbuilders (including Morch in Belleville and Bruckmann in Oakville) who combined forces to make up the manufacturing side of the new C and C yachts. ...the Cygnus was available with either a fixed cast iron keel and 2 ft 9 in draft, or with a fully retracting steel centerboard, when it weighed only 600 lbs."
Displacement for keel version: 950 lbs.