MIDSHIP 25
Save to Favorites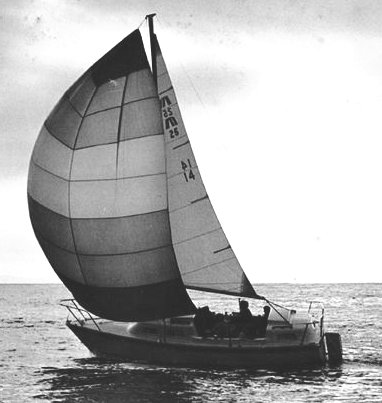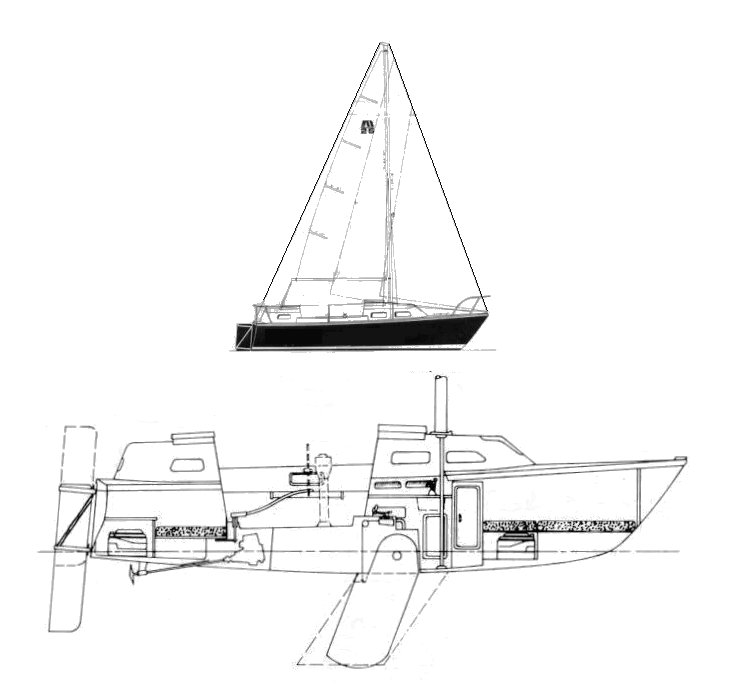 | | |
| --- | --- |
| Hull Type: | Swing Keel |
| Rigging Type: | Masthead Sloop |
| LOA: | 25.25 ft / 7.70 m |
| LWL: | 22.16 ft / 6.75 m |
| S.A. (reported): | 268.00 ft² / 24.90 m² |
| Beam: | 8.00 ft / 2.44 m |
| Displacement: | 3,750.00 lb / 1,701 kg |
| Ballast: | 1,100.00 lb / 499 kg |
| Max Draft: | 5.18 ft / 1.58 m |
| Min Draft: | 1.16 ft / 0.35 m |
| Construction: | FG |
| Ballast Type: | Iron |
| First Built: | 1972 |
| Last Built: | 1975 |
| # Built: | 200 |
| Builder: | Midship Yacht Co. (USA) |
| Designer: | Robert Finch |
| | |
| --- | --- |
| S.A. / Displ.: | 17.81 |
| Bal. / Displ.: | 29.33 |
| Disp: / Len: | 153.84 |
| Comfort Ratio: | 15.73 |
| Capsize Screening Formula: | 2.06 |
| S#: | 3.43 |
| Hull Speed: | 6.31 kn |
| Pounds/Inch Immersion: | 633.44 pounds/inch |
Rig and Sail Particulars
HELP
| | |
| --- | --- |
| I: | 29.50 ft / 8.99 m |
| J: | 10.75 ft / 3.28 m |
| P: | 24.42 ft / 7.44 m |
| E: | 9.00 ft / 2.74 m |
| S.A. Fore: | 158.56 ft² / 14.73 m² |
| S.A. Main: | 109.89 ft² / 10.21 m² |
| S.A. Total (100% Fore + Main Triangles): | 268.45 ft² / 24.94 m² |
| S.A./Displ. (calc.): | 17.84 |
| Est. Forestay Length: | 31.40 ft / 9.57 m |
Notes
Offered under a number of different names from a number of different builders. Approximately 200 were built as the MIDSHIP 25 until 1974. (Midship Yacht Co. was located in California and then at Las Vegas NV.)
Some time later production was moved to Florida and the boat was renamed DAWSON 25 of which at least another 100 were built. Since then the tooling changed ownership a number of times and boats have been sold under a number of other names including the PARKER-DAWSON 26, NAUSET 26, BOMBAY 26.
It is doubtful that any new boats have been built since the mid 1980's.
A fixed keel version was also available. (draft=5.0').
Wheel steering, a ketch rig, and various auxilary inboard engines were offered as options.