MORGAN 46 (SCHEEL)
Save to Favorites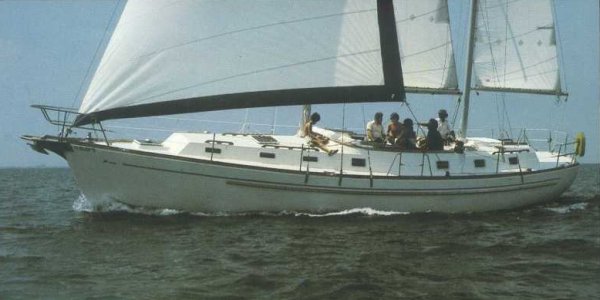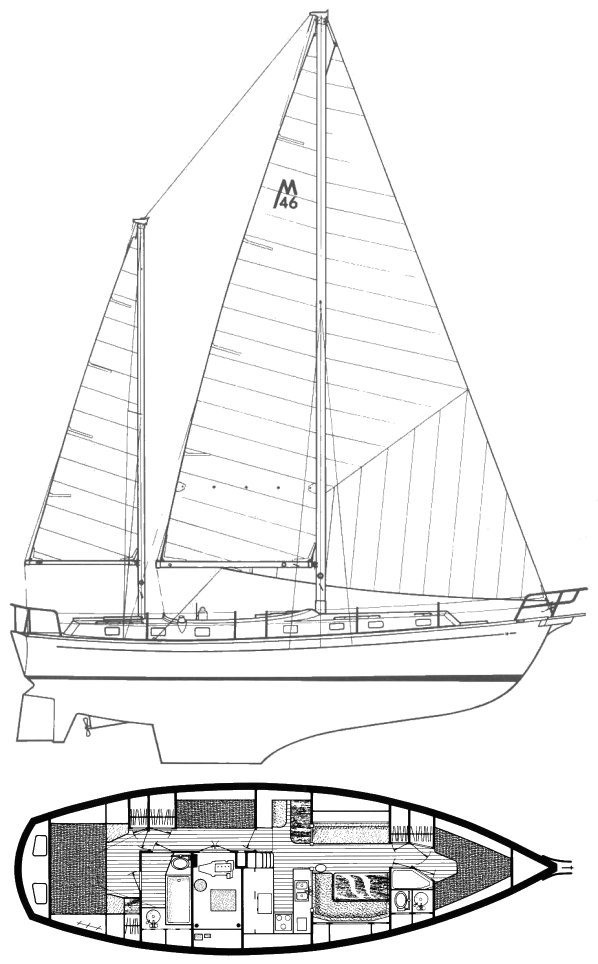 | | |
| --- | --- |
| Hull Type: | Fin with rudder on skeg |
| Rigging Type: | Masthead Ketch |
| LOA: | 46.00 ft / 14.02 m |
| LWL: | 39.25 ft / 11.96 m |
| S.A. (reported): | 876.00 ft² / 81.38 m² |
| Beam: | 13.50 ft / 4.11 m |
| Displacement: | 30,000.00 lb / 13,608 kg |
| Ballast: | 3,810.00 lb / 1,728 kg |
| Max Draft: | 6.00 ft / 1.83 m |
| Construction: | FG |
| Ballast Type: | Lead |
| First Built: | 1979 |
| Builder: | Morgan Yachts (USA) |
| Designer: | Henry Scheel |
Auxiliary Power/Tanks (orig. equip.)
| | |
| --- | --- |
| Make: | Perkins |
| Type: | Diesel |
| | |
| --- | --- |
| S.A. / Displ.: | 14.58 |
| Bal. / Displ.: | 12.70 |
| Disp: / Len: | 221.49 |
| Comfort Ratio: | 35.09 |
| Capsize Screening Formula: | 1.74 |
| S#: | 1.94 |
| Hull Speed: | 8.40 kn |
| Pounds/Inch Immersion: | 1,893.30 pounds/inch |
Rig and Sail Particulars
HELP
| | |
| --- | --- |
| I: | 50.75 ft / 15.47 m |
| J: | 18.75 ft / 5.72 m |
| P: | 43.25 ft / 13.18 m |
| E: | 13.00 ft / 3.96 m |
| PY: | 26.50 ft / 8.08 m |
| EY: | 9.00 ft / 2.74 m |
| S.A. Fore: | 475.78 ft² / 44.20 m² |
| S.A. Main: | 281.13 ft² / 26.12 m² |
| S.A. Total (100% Fore + Main Triangles): | 756.91 ft² / 70.32 m² |
| S.A./Displ. (calc.): | 12.59 |
| Est. Forestay Length: | 54.10 ft / 16.49 m |
Notes
Also sold as MORGAN CUSTOM 46.
The designer, Henry Scheel, was also the builder of the original molds for this yacht at his company in Maine in the early 1970's. (Sheel had collaborated with Charles Morgan on a number of the earlier Morgan's.)
The molds later came into the possession of Morgan Yachts, where they were used for a number of years with various modifications to build a number of models similar to the one shown here.
The Morgan nomenclature is especially confusing in the 45-46 foot range. Names were reused for entirely different models.
Boats very similar to this one were sold as the MORGAN 45/46 (SCHEEL) the MORGAN 461, MORGAN 462, MORGAN 463 and possibly others.
(There is at least one other MORGAN 46, (usually referred to as MORGAN 454-5, designed by Nelson/Marek and also built by Morgan Yachts.)
Available as sloop or ketch.
(See MORGAN 462 for other details.)
Thanks to Skip Gundlach for sharing his knowledge of Morgan's of this generation.