MORGAN 461/462
Save to Favorites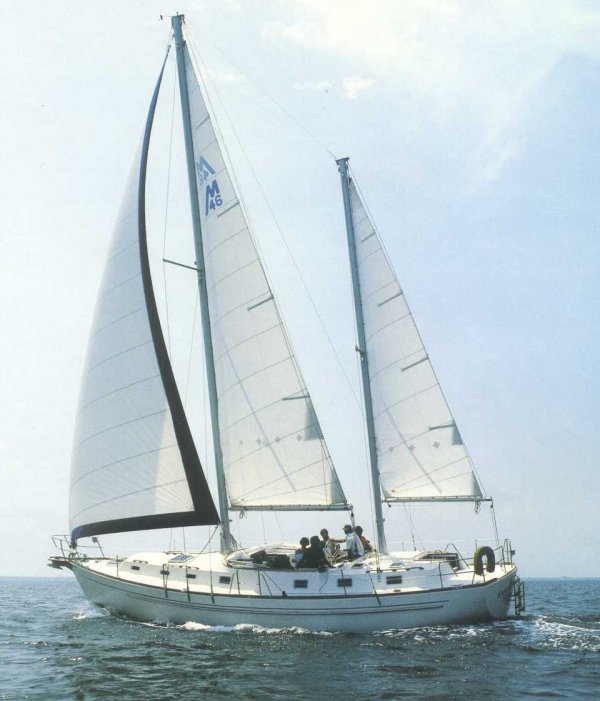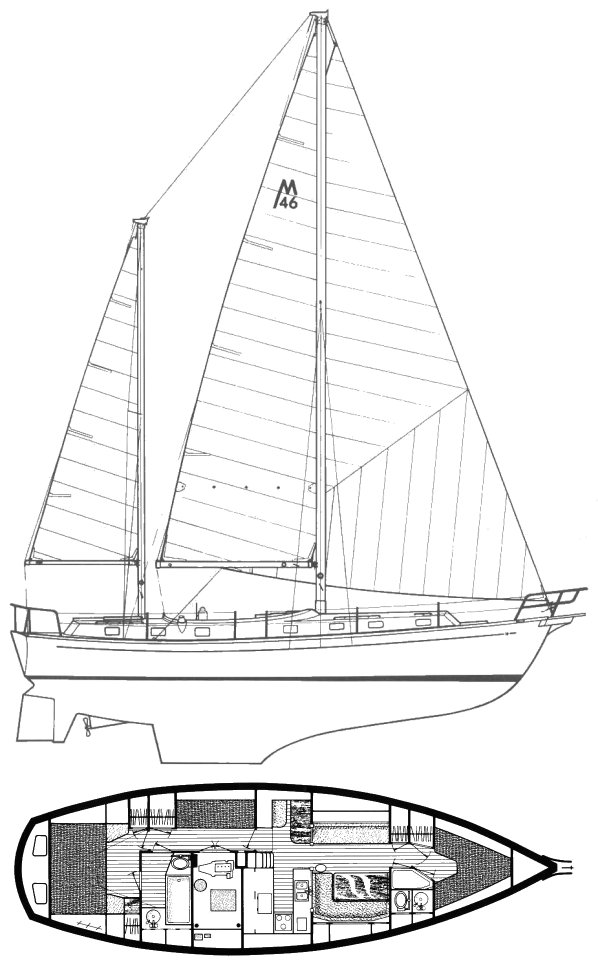 | | |
| --- | --- |
| Hull Type: | Fin with rudder on skeg |
| Rigging Type: | Masthead Ketch |
| LOA: | 46.50 ft / 14.17 m |
| LWL: | 39.25 ft / 11.96 m |
| S.A. (reported): | 876.00 ft² / 81.38 m² |
| Beam: | 13.50 ft / 4.11 m |
| Displacement: | 33,000.00 lb / 14,969 kg |
| Ballast: | 8,400.00 lb / 3,810 kg |
| Max Draft: | 5.25 ft / 1.60 m |
| Construction: | FG w/plywood in deck |
| Ballast Type: | Lead |
| First Built: | 1979 |
| Last Built: | 1984 |
| # Built: | 162 |
| Builder: | Morgan Yachts |
| Designer: | Henry Scheel |
Auxiliary Power/Tanks (orig. equip.)
| | |
| --- | --- |
| Make: | Perkins |
| Model: | 4-154 |
| Type: | Diesel |
| HP: | 62 |
| Fuel: | 175 gals / 662 L |
| | |
| --- | --- |
| S.A. / Displ.: | 13.68 |
| Bal. / Displ.: | 25.45 |
| Disp: / Len: | 243.64 |
| Comfort Ratio: | 38.46 |
| Capsize Screening Formula: | 1.69 |
| S#: | 1.66 |
| Hull Speed: | 8.40 kn |
| Pounds/Inch Immersion: | 1,893.30 pounds/inch |
Rig and Sail Particulars
HELP
| | |
| --- | --- |
| I: | 50.75 ft / 15.47 m |
| J: | 18.75 ft / 5.72 m |
| P: | 43.25 ft / 13.18 m |
| E: | 13.00 ft / 3.96 m |
| PY: | 26.50 ft / 8.08 m |
| EY: | 9.00 ft / 2.74 m |
| S.A. Fore: | 475.78 ft² / 44.20 m² |
| S.A. Main: | 281.13 ft² / 26.12 m² |
| S.A. Total (100% Fore + Main Triangles): | 756.91 ft² / 70.32 m² |
| S.A./Displ. (calc.): | 11.82 |
| Est. Forestay Length: | 54.10 ft / 16.49 m |
| Mast Height from DWL: | 56.50 ft / 17.22 m |
Notes
Updated Morgan 45. A collaboration between Morgan Yachts and Moorings. Scheel designed the hull (see Scheel 45). The deck and interior were designed by Moorings.
The first 12 boats off the line were designated as MOORINGS 46. The next 35 were MORGAN 461. There are 114 MORGAN 462's (And finally one built was designated 463).
The 462 had 3,000 lbs less displacement (as well as some other design changes not related to the information above).
The ketch rig above was optional. Sloop rig was standard.
Deep draft option: 6.0'/1.83m
Similar versions were called MORGAN 46, MORGAN CUSTOM 46, MORGAN 463 among others.
Also purchased and/or sold through THE MOORINGS charter company.
Sloop or ketch.
(Images are from a brochure for the MORGAN 462)
Thanks to Skip Gundlach for clarifying a number issues with Morgan's of this generation and 'billmania' for other corrections.