O'DAY 23-1 (LIFT TOP)
Save to Favorites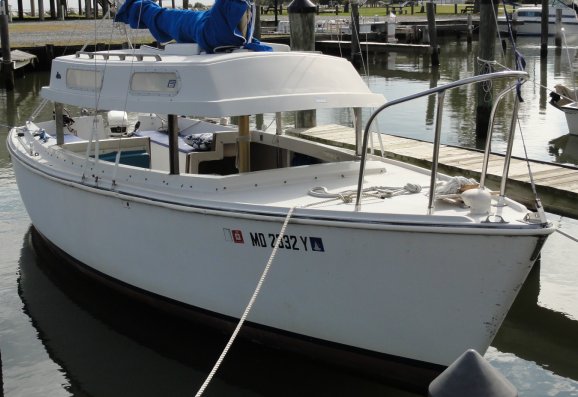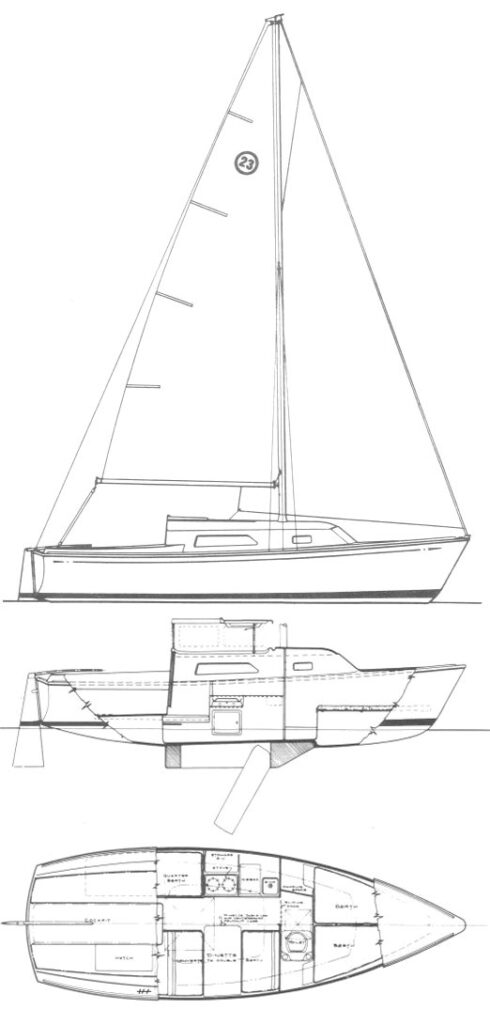 | | |
| --- | --- |
| Hull Type: | Keel/Cbrd. |
| Rigging Type: | Masthead Sloop |
| LOA: | 23.00 ft / 7.01 m |
| LWL: | 20.00 ft / 6.10 m |
| S.A. (reported): | 245.00 ft² / 22.76 m² |
| Beam: | 7.93 ft / 2.42 m |
| Displacement: | 3,100.00 lb / 1,406 kg |
| Ballast: | 1,250.00 lb / 567 kg |
| Max Draft: | 5.40 ft / 1.65 m |
| Min Draft: | 2.00 ft / 0.61 m |
| Construction: | FG |
| First Built: | 1972 |
| Builder: | O'Day Corp. (USA) |
| Designer: | C. Raymond Hunt Assoc. |
| | |
| --- | --- |
| S.A. / Displ.: | 18.49 |
| Bal. / Displ.: | 40.32 |
| Disp: / Len: | 172.99 |
| Comfort Ratio: | 14.53 |
| Capsize Screening Formula: | 2.18 |
| S#: | 3.24 |
| Hull Speed: | 5.99 kn |
| Pounds/Inch Immersion: | 566.70 pounds/inch |
Rig and Sail Particulars
HELP
| | |
| --- | --- |
| I: | 27.80 ft / 8.47 m |
| J: | 9.60 ft / 2.93 m |
| P: | 24.00 ft / 7.32 m |
| E: | 9.30 ft / 2.83 m |
| S.A. Fore: | 133.44 ft² / 12.40 m² |
| S.A. Main: | 111.60 ft² / 10.37 m² |
| S.A. Total (100% Fore + Main Triangles): | 245.04 ft² / 22.76 m² |
| S.A./Displ. (calc.): | 18.49 |
| Est. Forestay Length: | 29.41 ft / 8.96 m |
Notes
The first O'DAY 23 featured a large 'lift top' (see photo) that allowed the entire coach roof to be raised from the hull at once. The keel stepped mast stayed in place. This was a unique feature and somewhat controversial at the time.
Later the size of the pop top was reduced, (called 'Convertible Top' as in drawing), extending just aft of a deck stepped mast with tabernacle.
With the O'DAY 23-2, the deck stepped mast remained, but the pop top idea was abandoned entirely.
The O'DAY 23 (all versions) was in production for more than 10 years and was one of the company's most popular models. (1500+ built).
See O'DAY 23-2.