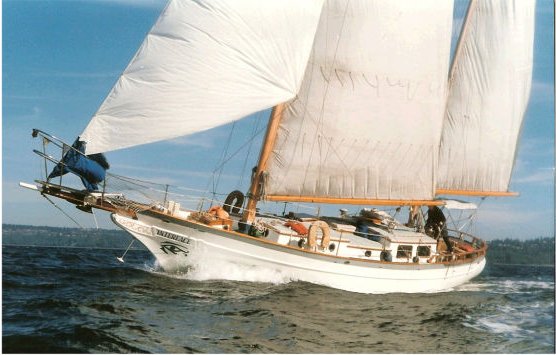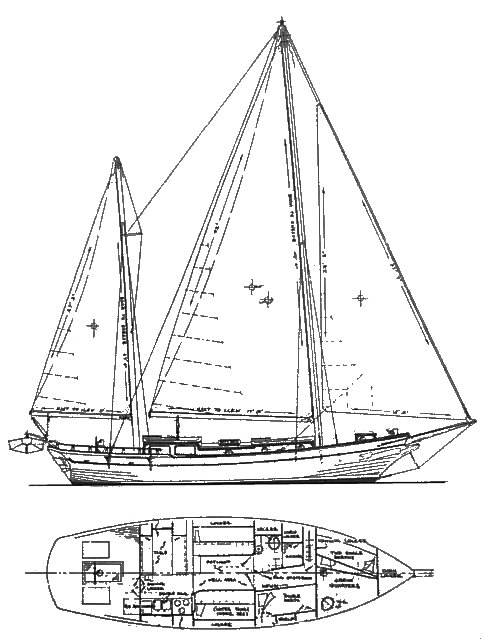 Sailboat Specifications
Hull Type:
Long Keel
Rigging Type:
Masthead Ketch
LOA:
40.90 ft / 12.47 m
LWL:
32.00 ft / 9.75 m
Beam:
12.16 ft / 3.71 m
S.A. (reported):
840.00 ft2 / 78.04 m2
Draft (max):
6.16 ft / 1.88 m
Displacement:
28,000 lb / 12,701 kg
Ballast:
9,500 lb / 4,309 kg
S.A./Disp.:
14.63
Bal./Disp.:
33.93
Disp./Len.:
381.47
Builder:
Formosa/Hardin Yachts/Pacific Far East (TWN)
Designer:
William Garden/W.Hardin
Auxiliary Power/Tanks
(orig. equip.)
Capsize Screening Formula:
1.61
Accommodations

Notes
SEA WOLF 40 is the name of the original Garden design built under the supervision of Bill Hardin. The original Sea Wolf was built in Japan during the late 50s by Okomato Shipyard with whom Hardin worked. He begin building in Taiwan around 1960 where he partnered with the Chen family of Formosa Boat Builders. There the Sea Wolf was built in both wood and fiberglass hulls. A number of derivatives were built by different yards in Taiwan under a number of other names. Some were direct copies (SEA TIGER 41, YANKEE CLIPPER, ATLANTIC CLIPPER 41, CLIPPER 41), while others, like the CT-41 were completely different although based on the Sea Wolf. Still others, built from different molds were also derived from the Sea Wolf. Including: ISLAND TRADER 41, TRANSWORLD 41. Thanks to Steve Van Ronk for updates and historical clarification.