SEAWIND MK II CUTTER (ALLIED)
Save to Favorites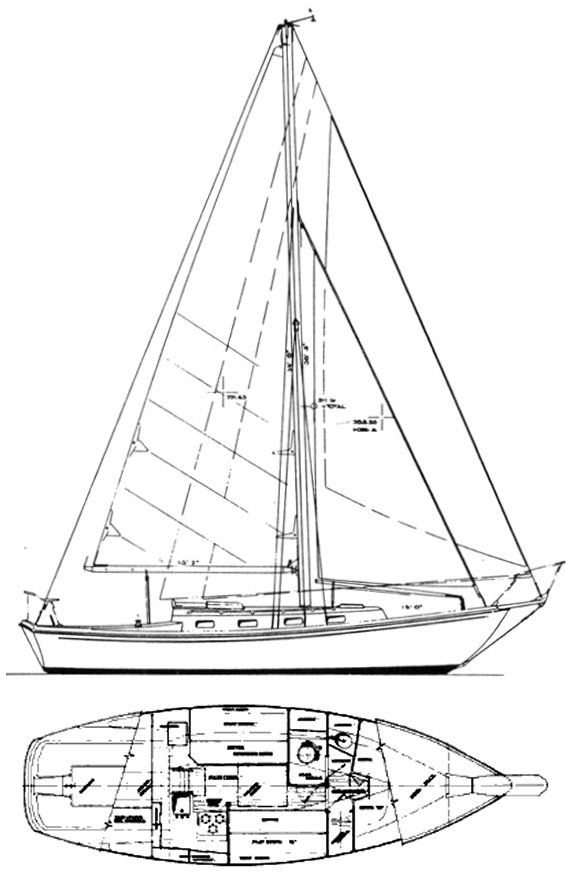 | | |
| --- | --- |
| Hull Type: | Long Keel |
| Rigging Type: | Cutter |
| LOA: | 31.58 ft / 9.63 m |
| LWL: | 25.50 ft / 7.77 m |
| S.A. (reported): | 513.00 ft² / 47.66 m² |
| Beam: | 10.42 ft / 3.18 m |
| Displacement: | 14,900.00 lb / 6,759 kg |
| Ballast: | 5,800.00 lb / 2,631 kg |
| Max Draft: | 4.50 ft / 1.37 m |
| Construction: | FG w/balsa deck & coach |
| Ballast Type: | Lead |
| First Built: | 1975 |
| Last Built: | 1982 |
| # Built: | 11 |
| Builder: | Allied Boat Co. (USA) |
| Designer: | Thomas Gillmer |
Auxiliary Power/Tanks (orig. equip.)
| | |
| --- | --- |
| Make: | Westerbeke |
| Type: | Diesel |
| HP: | 27 |
| | |
| --- | --- |
| S.A. / Displ.: | 13.60 |
| Bal. / Displ.: | 38.93 |
| Disp: / Len: | 401.16 |
| Comfort Ratio: | 37.15 |
| Capsize Screening Formula: | 1.70 |
| S#: | 0.94 |
| Hull Speed: | 6.77 kn |
| Pounds/Inch Immersion: | 949.41 pounds/inch |
Rig and Sail Particulars
HELP
| | |
| --- | --- |
| I: | 38.80 ft / 11.83 m |
| J: | 15.00 ft / 4.57 m |
| P: | 33.70 ft / 10.27 m |
| E: | 13.25 ft / 4.04 m |
| S.A. Fore: | 291.00 ft² / 27.03 m² |
| S.A. Main: | 223.26 ft² / 20.74 m² |
| S.A. Total (100% Fore + Main Triangles): | 514.26 ft² / 47.78 m² |
| S.A./Displ. (calc.): | 13.64 |
| Est. Forestay Length: | 41.60 ft / 12.68 m |
Notes
See SEAWIND MKII KETCH (ALLIED) for more details.
Also called SEAWIND 32.
Updated vers. of SEAWIND 30. The Seawind II came to the market in 1975 as the successor to the original SEAWIND. Production of the SEABREEZE , LUDERS 33, and CHANCE 30-30 was stopped to fill orders for this new model. But the price was much higher and customers continued to order the old version instead. For a while both models were being built at the same time while sales of the new version remained weak, the economy slowed and the company approached melt down.
Available as staysail ketch, cutter, or sloop (rare). Rack & pinion (on deck) wheel steering was standard.