VALIANT 40 (200-235)
Save to Favorites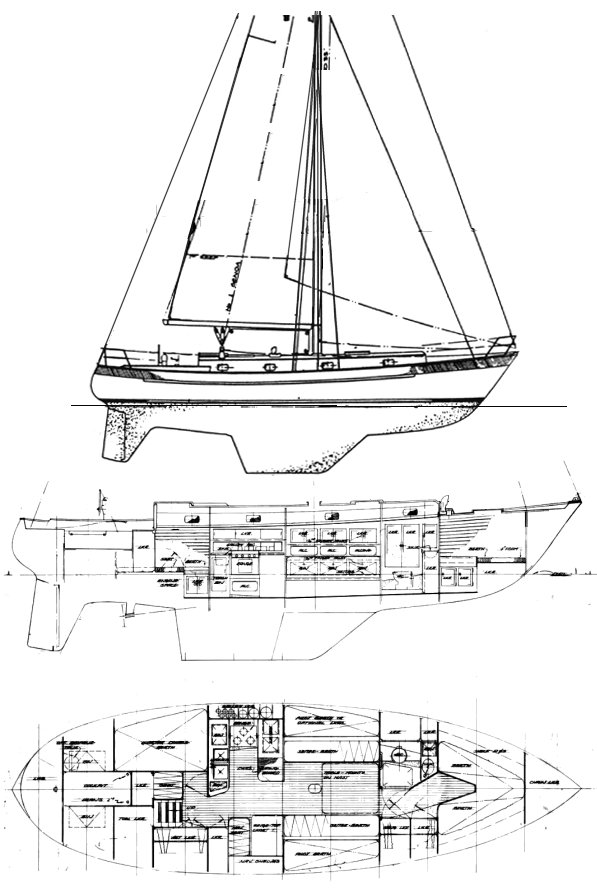 | | |
| --- | --- |
| Hull Type: | Fin with rudder on skeg |
| Rigging Type: | Cutter |
| LOA: | 39.92 ft / 12.17 m |
| LWL: | 34.00 ft / 10.36 m |
| S.A. (reported): | 771.00 ft² / 71.63 m² |
| Beam: | 12.33 ft / 3.76 m |
| Displacement: | 23,520.00 lb / 10,668 kg |
| Ballast: | 8,400.00 lb / 3,810 kg |
| Max Draft: | 6.00 ft / 1.83 m |
| Construction: | FG |
| Ballast Type: | Lead |
| First Built: | 1978 |
| Last Built: | 1980 |
| # Built: | 35 |
| Builder: | Uniflite/Valiant Yachts (USA) |
| Designer: | Bob Perry |
Auxiliary Power/Tanks (orig. equip.)
| | |
| --- | --- |
| Type: | Diesel |
| HP: | 50 |
| Fuel: | 85 gals / 322 L |
| | |
| --- | --- |
| S.A. / Displ.: | 15.09 |
| Bal. / Displ.: | 35.71 |
| Disp: / Len: | 267.15 |
| Comfort Ratio: | 35.81 |
| Capsize Screening Formula: | 1.72 |
| S#: | 1.84 |
| Hull Speed: | 7.81 kn |
| Pounds/Inch Immersion: | 1,497.92 pounds/inch |
Rig and Sail Particulars
HELP
| | |
| --- | --- |
| I: | 50.30 ft / 15.33 m |
| J: | 18.50 ft / 5.64 m |
| P: | 45.00 ft / 13.72 m |
| E: | 13.60 ft / 4.15 m |
| S.A. Fore: | 465.28 ft² / 43.23 m² |
| S.A. Main: | 306.00 ft² / 28.43 m² |
| S.A. Total (100% Fore + Main Triangles): | 771.28 ft² / 71.65 m² |
| S.A./Displ. (calc.): | 15.09 |
| Est. Forestay Length: | 53.59 ft / 16.33 m |
Notes
Uniflite Corp. built the first 159 VALIANT 40s from 1975 to 1984. During this period, (between hull numbers 120 and 249) resin mixtures were changed to include an 'experimental' (fire-retardant?) additive.
This was thought to have cause the blistering that later appeared on many hulls, resulting in a class action law suit.
Uniflite went out of business in 1984.
Rich Worstell, a Valiant owner and dealer, bought the molds. After building some boats in Washington, he moved the operation to Texas. (The first boat built in Texas was hull number 267).
Production of the VALIANT 40 continued, on a limited semi-custom scale, until 1992 when an updated version called the VALIANT 42 was introduced.
Overall 200 40's were built between 1973-1992.
Despite the blistering problem on some of the early boats, the VALIANT 40 is one of the most highly thought of designs of this type and extremely successful, with more than 200 built.