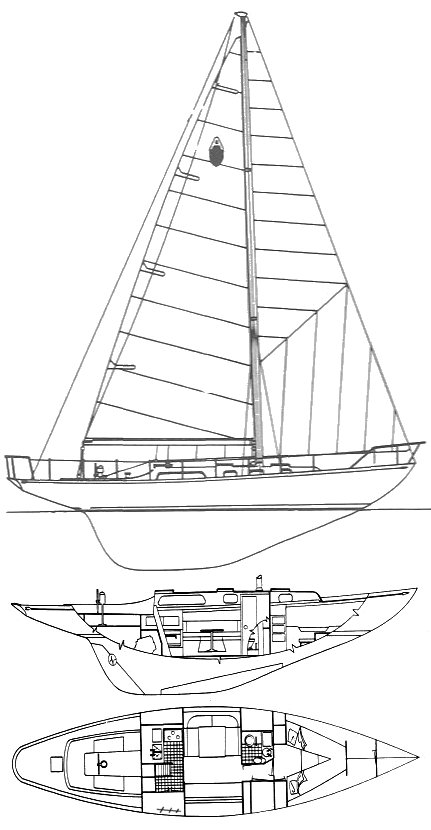 Sailboat Specifications
Hull Type:
Long Keel
Rigging Type:
Masthead Sloop
LOA:
44.08 ft / 13.44 m
LWL:
30.00 ft / 9.14 m
Beam:
11.00 ft / 3.35 m
S.A. (reported):
788.00 ft2 / 73.21 m2
Draft (max):
6.00 ft / 1.83 m
Displacement:
22,500 lb / 10,206 kg
Ballast:
10,000 lb / 4,536 kg
S.A./Disp.:
15.88
Bal./Disp.:
44.44
Disp./Len.:
372.02
Construction:
Wood/FG
Ballast Type:
Lead
Builder:
Uniflite Inc. (USA)
Designer:
A. E. Luders/Robert Henry Jr.
Auxiliary Power/Tanks
(orig. equip.)
Make:
Perkins
Model:
4-107
Capsize Screening Formula:
1.56

I:
48.80 ft / 14.87 m
J:
16.00 ft / 4.88 m
P:
43.70 ft / 13.32 m
E:
18.20 ft / 5.55 m
S.A. Fore:
390.40 ft2 / 36.27 m2
S.A. Main:
397.67 ft2 / 36.94 m2
S.A. Total (100% Fore + Main Triangles)
788.07 ft2 / 73.21 m2
S.A./Disp. (calc.):
15.88
Est. Forestay Len.:
51.36 ft / 15.65 m
Notes
Available as sloop or yawl. Some were built for the US Navy as training vessels. Uniflite was one of the earliest builders of semi-production fiberglass sailing yachts. Naval Architect Robert Henry Jr., an employee of the Naval Academy at the time, did the drawings for the fiberglass conversion. Thanks to Cliff Bisch for providing the following commentary:"The first f/g Annapolis 44s were built from 1963 to 1967 by Unflite. They had a very labor intensive hull to deck joint which makes the design, as built, nearly impervious to leaks, but not commercially viable. The molds languished in the Bellingham yard until Cliff Bisch spotted them in 1980. He told Jim Gray, of Bellevue, Washington who purchased them, restored the surfaces and pulled 3 more hull and deck combinations out of them. One was shown at the 1983 Seattle Boat Show, with hopes of a production run. That did not materialize and only one boat was completed. It was on the resale market in 2011, in Vancouver, B.C. The first unfinished hull and deck languished in Renton, Wa until 1993, when Jim and Devon Surgent purchased them and brought the boat to an excellent level of completion. Externally, this boat has a wood cap rail as opposed to the bare fiberglass gunnels of the original fiberglass production boats, including Jim Gray's #1 hull. Bill Luders added 200 lbs of lead to the keel on the Gray boats and moved it slightly forward to improve the balance of the helm."