CAL 39
Save to Favorites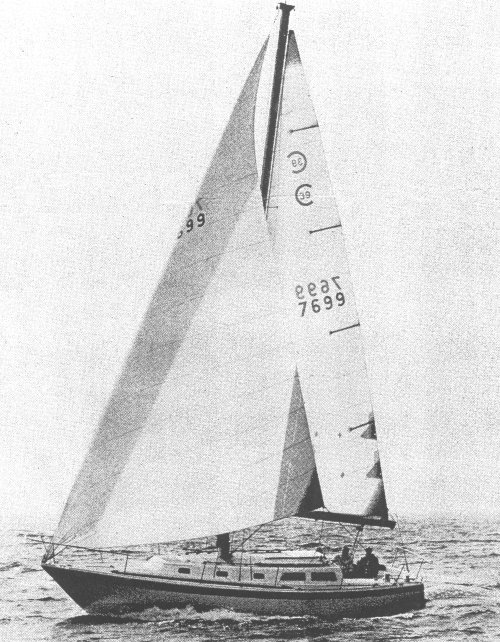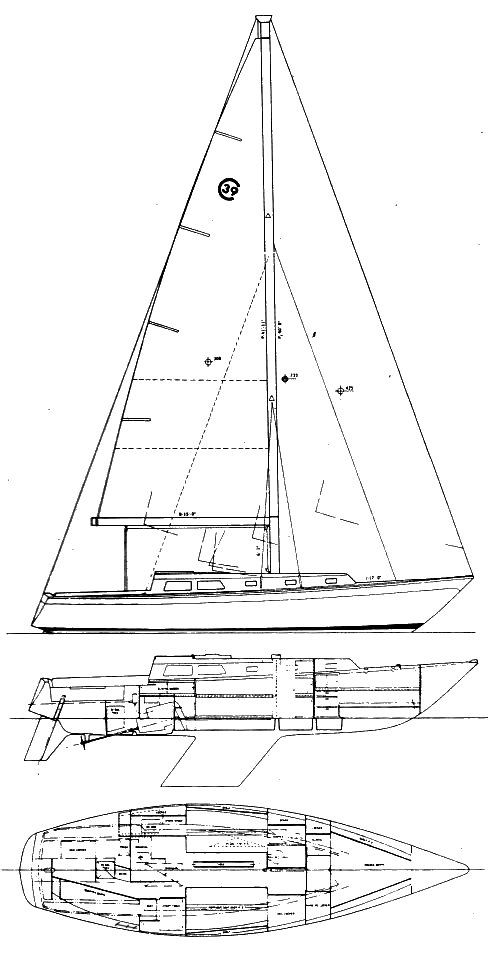 | | |
| --- | --- |
| Hull Type: | Fin with rudder on skeg |
| Rigging Type: | Masthead Sloop |
| LOA: | 38.67 ft / 11.79 m |
| LWL: | 31.25 ft / 9.53 m |
| S.A. (reported): | 738.00 ft² / 68.56 m² |
| Beam: | 11.67 ft / 3.56 m |
| Displacement: | 14,600.00 lb / 6,622 kg |
| Ballast: | 6,600.00 lb / 2,994 kg |
| Max Draft: | 6.00 ft / 1.83 m |
| Construction: | FG (solid laminate) |
| Ballast Type: | Lead |
| First Built: | 1970 |
| Last Built: | 1971 |
| # Built: | 29 |
| Builder: | Jensen Marine (USA) |
| Designer: | C. William Lapworth |
Auxiliary Power/Tanks (orig. equip.)
| | |
| --- | --- |
| Make: | Perkins |
| Model: | 4108 |
| Type: | Diesel |
| Fuel: | 35 gals / 132 L |
| | |
| --- | --- |
| S.A. / Displ.: | 19.84 |
| Bal. / Displ.: | 45.21 |
| Disp: / Len: | 213.58 |
| Comfort Ratio: | 25.56 |
| Capsize Screening Formula: | 1.91 |
| S#: | 2.85 |
| Hull Speed: | 7.49 kn |
| Pounds/Inch Immersion: | 1,303.07 pounds/inch |
Rig and Sail Particulars
HELP
| | |
| --- | --- |
| I: | 50.00 ft / 15.24 m |
| J: | 17.00 ft / 5.18 m |
| P: | 41.75 ft / 12.73 m |
| E: | 15.00 ft / 4.57 m |
| S.A. Fore: | 425.00 ft² / 39.48 m² |
| S.A. Main: | 313.13 ft² / 29.09 m² |
| S.A. Total (100% Fore + Main Triangles): | 738.13 ft² / 68.57 m² |
| S.A./Displ. (calc.): | 19.84 |
| Est. Forestay Length: | 52.81 ft / 16.10 m |
Notes
This, the first of several CAL 39's, was introduced just before the adoption of the IOR, (replacing the CCA rule) which may have caused sales to falter in the first year. It was soon replaced with another version, the CAL 39 MII (1979), an entirely new design, also by Lapworth, and one that, presumably, the rule treated more kindly.
Yet another, completely different CAL 39 was introduced in 1988, this time designed by Hunt and Associates, of which, relatively few were built.

Deep Draft: 6.50'/1.98m (ballast +600 lbs.)
Tall Rig:
I: 54.00'/16.46m
J: 17.00'/5.18m
P: 45.60'/13.90m
E: 15.00'/4.57m
Upwind/working SA: 801 ft2/74.41 m2
Thanks to Gay Morris for images and corrected information concerning the different versions of the CAL 39.