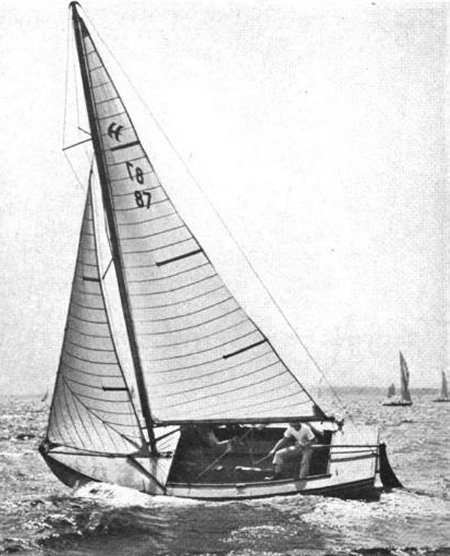 Sailboat Specifications
Hull Type:
Centerboard Dinghy
Rigging Type:
Fractional Sloop
LOA:
19.00 ft / 5.79 m
LWL:
17.50 ft / 5.33 m
Beam:
7.20 ft / 2.19 m
S.A. (reported):
176.00 ft2 / 16.35 m2
Draft (max):
4.50 ft / 1.37 m
Draft (min):
1.00 ft / 0.30 m
Displacement:
1,100 lb / 499 kg
Ballast:
S.A./Disp.:
26.48
Bal./Disp.:
Disp./Len.:
91.63
Construction:
Molded Plywood
Ballast Type:
First Built:
1945
Last Built:
# Built:
Builder:
Allied Aviation Corp. (USA)
Capsize Screening Formula:
2.79
Sailboat Links
Notes
The HURRICANE, first built by Allied Aviation Corp.(USA), was more than likely the result of excess capacity experienced by many companies after war time contracts ran out. A HURRICANE class racing association was established for a few years on Long Island Sound (east coast USA). Palmer Scott and Co. (builder of boats for many years) purchased a number of bare hulls from Allied, redesigned the deck, added a keel and called it the SMYRA, which existed as a class in Massachusetts for a few years. (Some have said there was also a keel version of the HURRICANE) It was from an existing SMYRA hull that a plug was made for what became the RHODES 19 (Rhodes Design #508), first built by Marscot Plastics Co. and later by O''Day Corp..Philip Rhodes was said to have a very loose policy about royalties paid for dinghies and smaller boats, relying more on their promotional value.
Latest Topics
No Topics Found.