OFFSHORE 40 (CHEOY LEE)
Save to Favorites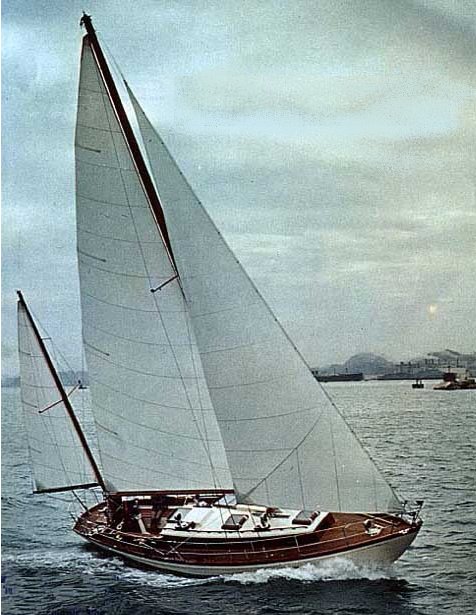 | | |
| --- | --- |
| Hull Type: | Long Keel |
| Rigging Type: | Masthead Sloop |
| LOA: | 39.75 ft / 12.12 m |
| LWL: | 28.00 ft / 8.53 m |
| S.A. (reported): | 742.00 ft² / 68.93 m² |
| Beam: | 10.75 ft / 3.28 m |
| Displacement: | 20,720.00 lb / 9,398 kg |
| Ballast: | 7,900.00 lb / 3,583 kg |
| Max Draft: | 6.00 ft / 1.83 m |
| Construction: | FG |
| Ballast Type: | Iron |
| First Built: | 1964 |
| Last Built: | 1976 |
| # Built: | 156 |
| Builder: | Cheoy Lee Shipyard Ltd.(HK) |
| Designer: | Philip Rhodes |
Auxiliary Power/Tanks (orig. equip.)
| | |
| --- | --- |
| S.A. / Displ.: | 15.80 |
| Bal. / Displ.: | 38.13 |
| Disp: / Len: | 421.37 |
| Comfort Ratio: | 42.96 |
| Capsize Screening Formula: | 1.57 |
| S#: | 0.97 |
| Hull Speed: | 7.09 kn |
| Pounds/Inch Immersion: | 1,075.51 pounds/inch |
Rig and Sail Particulars
HELP
| | |
| --- | --- |
| I: | 47.00 ft / 14.33 m |
| J: | 15.83 ft / 4.82 m |
| P: | 41.25 ft / 12.57 m |
| E: | 18.00 ft / 5.49 m |
| S.A. Fore: | 372.01 ft² / 34.56 m² |
| S.A. Main: | 371.25 ft² / 34.49 m² |
| S.A. Total (100% Fore + Main Triangles): | 743.26 ft² / 69.05 m² |
| S.A./Displ. (calc.): | 15.82 |
| Est. Forestay Length: | 49.59 ft / 15.12 m |
Notes
Also known as the EMPIRE 40 and a variant of the RHODES RELIANT 41, all from the same builder. The OFFSHORE/EMPIRE 40 was created in an effort to reduce costs of contruction and design royalties of the RHODES RELIANT. Although from the same basic tooling, the OFFSHORE 40 has iron instead of lead ballast, and differences in other construction details. Sold as a sloop or yawl.
In the mid 1970's, Cheoy Lee Yard built another OFFSHORE 40 (variously designated as the OFFSHORE 4O MKII and then OFFSHORE 41), which was a different boat entirely and thought to be designed by Raymond Richards). See OFFSHORE 41.
(Variants of both the Rhodes and Richards design were at one time offered at one time or another under the names OFFSHORE 40 and OFFSHORE 41.)
Also offered with a yawl rig.
Photo from original Cheoy Lee literature.